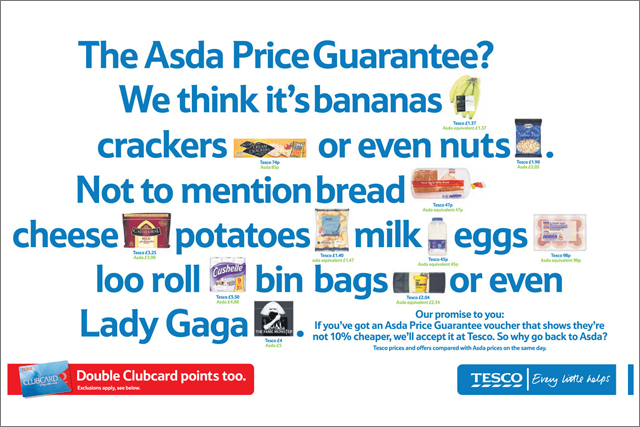 Tesco's PriceCheck promotion promised: "We'll check the price of your comparable grocery shopping versus Asda and then send you an email when we have your results. Of course we're confident you will find your shopping cheaper at Tesco, but if not, we'll refund double the difference."
However, Tesco has now changed the conditions of its price match guarantee after concerns that shoppers were buying items just to get money back.
To try and remedy the problem, Tesco has added a clause that limits the amount it pays out to £20 per shop.
According to a report in the Daily Mail, one shopper bought two bottles of Chardonnay, two bottles of Magners pear cider, two Nivea rich body moisturisers and a pack of mature cheddar.
The basket of items came to £17.48 at Asda and £38.46 at Tesco – a difference of £20.98. Tesco was forced to pay out a shopping voucher equivalent to £41.96.
Asda and Tesco have been involved in a long-standing tit-for-tat argument over each other's claims to be the cheapest supermarket, which has involved complaints to the ASA (Advertising Standard Authority).
Tesco said: "A very small number of people have used PriceCheck just to seek our products which a competitor has on promotion and to make some money out of our guarantee. We commend their ingenuity, but this isn't why we set up the guarantee.
"So we've introduced a £20 limit. But families doing their weekly shop and checking prices with us can rest assured. Fewer than one in 5,000 customers have been awarded vouchers over £20."