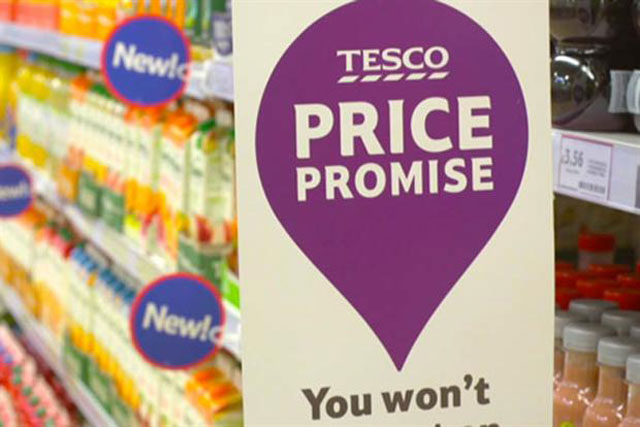 The Price Promise is being hailed by Tesco as a "disruptive innovation" in a ruling it claims will transform the supermarket sector in a similar manner to the way consumers are now able to "compare loans, credit cards and insurance products simply, fairly and quickly".
Sainsbury's objected to a regional press ad for Tesco's Price Promise featuring branded products including Colman's Mustard and own-label and fresh food, including an aubergine and a pint of milk, claiming they were not comparable.
Issues including provenance and ethics were highlighted by Sainsbury's as a major factor in a consumer's purchasing decision and therefore this meant similar own-label or fresh food products sold by different retailers could not be compared on a like-for-like basis based on price alone.
The ASA decided the comparisons made in Tesco's Price Promise ad were justified, after acknowledging there would be differences in animal welfare and country of origin for ingredients, It revealed it was satisfied Tesco had taken those elements into account when matching products, "based on them meeting the same need".
Determining factor
Tesco claimed non-price elements should only be taken into account when comparing products when they were the determining factor in the consumer buying the product.
As a result, it argued products containing British and Irish ingredients did not have to be matched with competitor products of the same provenance.
Tesco also claimed Fairtrade certifications were not a major factor in a customer's decision to buy a product, even when the retailer has taken a decision to stock only Fairtrade products.
Sainsbury's pointed to another Tesco ad published on 3 March, that claimed all its fresh chickens were from UK farms, as proof that Tesco admitted the importance of an ingredient's provenance when customers were making a purchase decision.
However, Tesco successfully argued to the ASA that the 3 March ad was not about focusing on its ingredients' provenance, but was instead an attempt to highlight its commitment to a better supply chain, following the horsemeat scandal.
In response to the decision, Sainsbury's has launched a national ad campaign entitled "Same price, different values", that seeks to defend the "customers' right to make fair comparisons based on all important characteristics of a product and not just price".