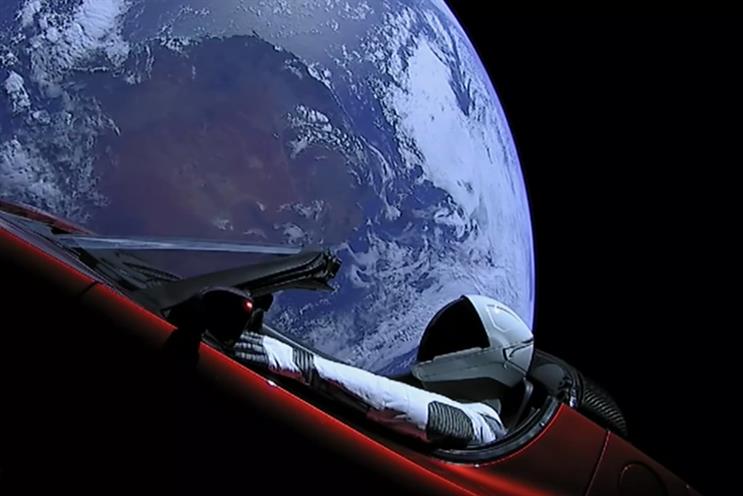 The launch of the car into space by Musk's SpaceX cost $90m (£64.8m) and served as both a test heavy-lift trial for the aerospace company's technology and a promotion of the Tesla brand.
The Falcon Heavy rocket launched from Cape Canaveral yesterday, flying over the Atlantic and up into space.
SpaceX chief Musk chose his own cherry red Tesla Roadster to be the rocket's payload, with "Don't panic!" written on the dashboard (a reference to Douglas Adams' Hitchhiker's Guide to the Galaxy) and the driver's seat containing a mannequin called Starman wearing a spacesuit and accompanied by a looped version of David Bowie's Life on Mars.
The car is currently still attached to the rocket's upper stage, before the stage fires its engines one final time, pushing the Tesla onto a course for Mars, where it will either crash into the red planet or continue an eternal course into the cosmos.
The dummy bears a note intended for any alien beings who happen to intercept the vehicle during its odyssey. "Made on Earth by humans," it reads.
The Falcon Heavy is designed to deliver a low-Earth orbit of 64 tonnes, achieving double the payload of the world's second most powerful rocket, the Delta IV Heavy, at a third of the cost.
Musk, who is the chief executive of SpaceX, said ahead of yesterday's launch that there was a 50-50 chance of success, adding that he "had this image of just a giant explosion on the pad, a wheel bouncing down the road". However, the venture was a success.
Musk has talked of his plans for colonisation of Mars, so the Tesla's trajectory and the choice of Bowie track clearly have some serious ramifications.