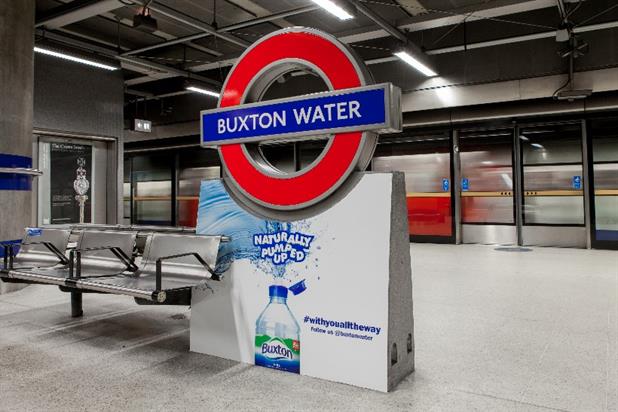 The contract will combine the ad sales for the Underground, the Overground, the Tramlink, the Docklands Light Railway (DLR), Victoria Coach Station and Crossrail, when it launches.
Viacom Outdoor, now known as Exterion Media, won the £800 million eight-and-a-half-year contract to handle the outdoor ad sales in 2006. Following a legal dispute the contract was renegotiated in early 2012.
Graeme Craig, the director of commercial development at TfL, said the company wants to move from the current minimum guarantee model to a partnership that will help it evolve so its assets are at the forefront of the commercial media "revolution".
He said the new contract includes advertising, sponsorship, experiential and retail opportunities and the next media partner will offer a "broad range of opportunities".
Craig said Buxton Water's sponsorship of the Canada Water Tube station during the London Marathon last month, the first deal of its kind, was an example of the sort of deals TfL might look to do more of in the future.
He said: "It is not a regular thing that we will be doing but it is a good example of TfL thinking afresh."
Tfl claims the contract will deliver an annual audience of 1.5 billion across 270 Tube stations, 83 stations on the London Overground, 45 DLR stations, Tramlink's 39 stops, Victoria Coach Station and the 40 to-be-launched Crossrail stations.
Craig rejected the suggestion that moving away from a guarantee model would put public funds at risk, and instead said working in partnership will be more profitable for both sides. He said: "We want to work in partnership to unlock long-term value."
The move is part of TfL's wider strategy to make the most out of the commercial opportunities on its estate, which have included tailoring the retail offered in stations to the area they are situated in, including the "pop-up" opportunities at London's Old Street.
More information about the process is available on the TfL website and there will be a day of briefings for interested parties. The formal notice will then be published through the Official Journal of the European Union.
TfL is planning to appoint a new partner by April next year. The contract will start on 1 October 2016.
Jason Cotterrell, the UK managing director at Exterion Media, said: "We're really excited that the moment we've been preparing for is finally/nearly here.
"Transport for London has an inspiring vision for the Underground and their wider asset base that we're already delivering on.
"Game-changing innovations such as DX3, which we're launching in the coming months, will transform the tube and commuter experience, and present amazing opportunities for the industry going forward.
"We're proud to be leading this revolution as we engage with TfL during the bid."