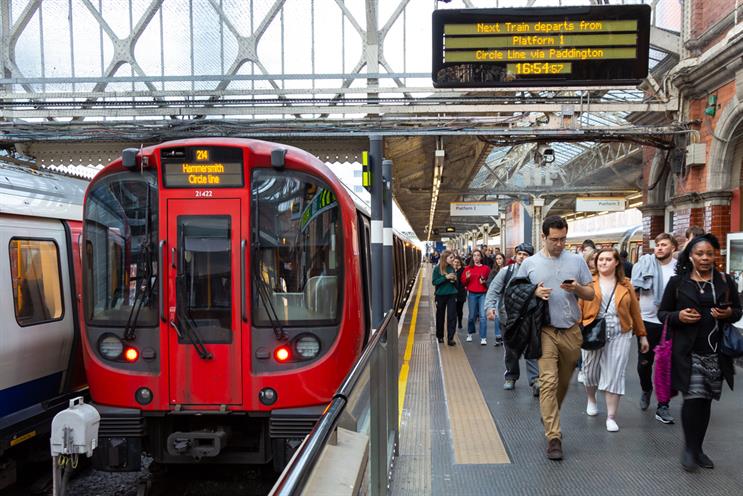 Transport for London will begin tracking all passengers using its free station Wi-Fi in order to improve its advertising offer.
Following a month-long trial at 54 stations in the capital, TfL will harvest "depersonalised data" to look at flows of people travelling on the network.
The data would be used to improve how the Tube operates and provide more information about the placement of ads, such as which areas have greater passenger football and longest dwell times.
A freedom of information request about the trial from 2016 revealed that the data collection could lead to advertising being sold based on journey patterns, rather than by station – something that could encourage brands to "follow" customers by buying ads at multiple points along a given route.
From 8 July, TfL will collect data from 260 Wi-Fi-enabled Underground stations.
In a statement, TfL said: "As well as providing benefits to customers and staff, the data will also allow TfL to better understand customer flows throughout stations, highlighting the effectiveness and accountability of its advertising estate based on actual customer volumes.
"Being able to reliably demonstrate this should improve commercial revenue, which can then be reinvested back into the transport network."
However, the data will also be used in TfL's free open-data application programming interface, which is used by app developers to create products such as journey planners.
Any customers who do not wish for their Wi-Fi connection data to be collected will need to turn Wi-Fi off on their devices in order to opt out.
How TfL says data is being collected
When a passenger's mobile device searches for Wi-Fi, it sends out a unique identifier known as a media access control address.
Nearby Wi-Fi routers at the station collect these addresses and they are "automatically depersonalised" via en encryption
The connection requests are analysed by TfL's in-house analytics team "to help understand where customers were at particular points of their journeys".
During the 2016 pilot programme, which lasted for a month, TfL collected more than 509 million depersonalised pieces of data from 5.6 million mobile devices that made about 42 million journeys.
TfL said tracking customers' Wi-Fi connections gives the oranisation information that traditional practices, such as collecting ticketing data or asking customers in surveys, could not. For example, it found that customers travelling between King's Cross St Pancras and Waterloo take at least 18 different routes, with 40% of customers not taking the two most popular ones.
Given the delays to Crossrail and a cut in its grant from central government, TfL has an incentive to grow its commercial income. TfL revealed in 2016 that it had experienced a "quantum leap" in its thinking after realising it had become an advertising company as well as London's public transport provider. However, its £152.1m income from advertising makes up just 2.8% of TfL's total revenue, according to its latest financial accounts.