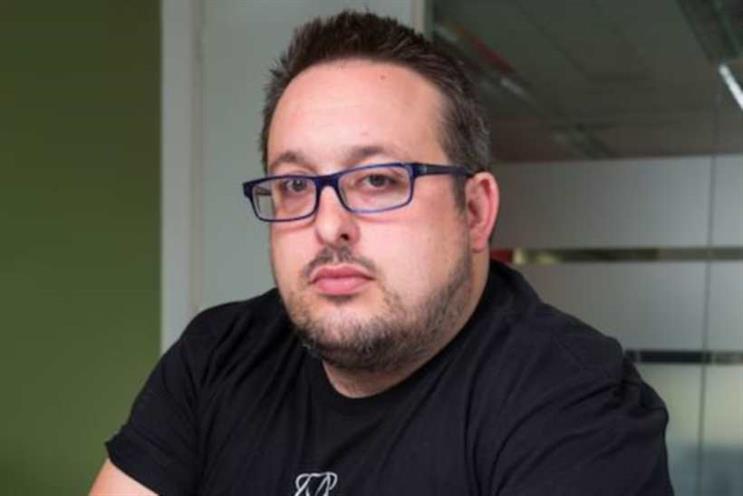 Who are the industry's biggest boundary pushers, the ones who have really made a difference? And who do they most admire?
In this series, produced in association with The Trade Desk, we invite the industry's leading lights to interview and be interviewed. Each instalment sees a boundary pusher interviewing one of their peers – who then nominates their own interviewee in turn.
In the last instalment, MediaCom UK chairman Karen Blackett interviewed Tess Alps, chair at Thinkbox. In turn, Tess Alps has selected Graeme Douglas, executive creative director at TBWA/London to interview – their wide-ranging discussion covers everything from Graeme's total disregard for boundaries, to digital and how to keep tech at the forefront of creativity as well as ensuring great staff stay put.
Tess Alps I've chosen you as my boundary-pusher, Graeme, because your career has seen you move between media and creative agencies, and within agencies, with a breathtaking disregard for any boundaries at all.
Graeme Douglas (pictured, right) I think the weird thing about boundaries in this industry is that we create them ourselves. In the real world, these constructs don't exist. The internet started becoming a big deal just as I started my career in 2000. Then the launch of Naked floated the idea that there was this third space which was part media, part creative, part strategy, part digital.
Why do these silos exist, especially the silos which have been creative and strategy? Whether it's not being very good at anything so I try a bit of everything or whether it's just believing that you don't have to follow the path that the industry created for us 30 years ago.
I believe the best work today comes from people who can think across boundaries beyond the limits the industry puts on them. The best creators I've worked with are the most strategic and the best strategists are the most creative. The best media people think about brands and the best brand thinks about media.
TA: How did you start in this industry?
GD: My first job was at Equinox and then I went to Zenith and learned how to do very structured implementational planning working on P&G.
It was at Carat that I first encountered separate strategy and media planning divisions and found my natural home. I couldn't ever do buying because I'm the world's worst negotiator; I say yes to everything. I wasn't particularly good at account management because I'm a bit unreliable and I don't get things done on time. But I seem to be reasonably good at thinking about stuff.
TA: OK, you've now found a happy home as a strategy director at Carat. How did the move to a creative agency come about?
GD: I started working very closely with Wieden and Kennedy on Arla Foods – Lurpak and Cravendale. They had a great planner there called Lisa Prince, now over in W+K Portland. I started working very closely on brand strategy; she formed the common strategy and together we'd work together on the direction of travel. That went really well for a couple of years. Then, when Wieden's Head of Comms Strategy Simon Summerscales left, they approached me about a job. I quickly moved into brand strategy there and took on the Nike job, a perfect brand to explore all sorts of emerging ways to communicate – owned, earned and paid.
TA: Nike is exactly the sort of brand that can make owned and earned work really well.
GD: Inevitably, a lot of that work was internet based, so I became head of digital at Wiedens, then digital creative director and then just creative director.
TA: That sounds simple. Acquire the creative word and drop the digital one. But in reality it's quite a leap. Who did you have to convince?
GD: Tony Davidson; the man is a genius. He immerses himself in new stuff and he knows what he's not good at. The heart of being a great creative director is: a) have good ideas, b) promote good ideas from other people and then you only work with good ideas.
My style of planning was already very creatively led. It wasn't about writing propositions; it wasn't about writing brand architectures or diagrams or big theses on the future of advertising. It was about helping creatives get ideas that could work in the real world.
Wiedens is a place geared up for misfits, for people that don't fit into standard roles and it promotes odd combinations. Dan Wieden believes in the power of mixing things, trying things differently.
TA: W+K attracts the sort of clients who want to do that too. You get the clients you deserve.
GD: Absolutely. I worked with great people – Tony, Kim (Papworth), Neil (Christie), Stuart Hartness, the creative director on Nike, Paul Coleman, head of planning – and I owe them a lot. They just let me get on with it and do good work, like Nike Grid, the running game and writing the strategy for Write The Future. It's a very special place.
TA: What's the piece of work you are most proud of from those days?
GD: It has to be 'The Other Side' for Honda Type R. Scott Dungate was my partner at the time and we had been working on the brief for a long time. How do you get Honda's racing story out whilst still protecting the core of the brand which is safe and reliable? I think it's a good example of the sort of work we should make as an industry; brilliant craft skills, brilliant storytelling, using TV and film – which is never going away – and adding a new interactive technology via YouTube.
TA: Which brought to life the dual personality of the car.
GD: Yes. The interaction was really simple and I think it enhanced the storytelling. It wasn't just there as a gimmick.
TA: It was a triumph and won Wiedens and you lots of awards. But soon after you decided to move back into media? Did you think you had peaked?
GD: I was seduced by the vision that Havas had. And I learned a lot in six months but I realised that my heart is in making things. I want to be writing. I want to be making things people actually touch and play with and look through and watch and share and discuss.
TA: So off to TBWA.
GD: Certain people have played such a big part in my career. Peter Souter is the next one. A force of nature, lovely man, big personality, very generous spirit, huge intellect and talent. Not many people can start a sentence with "when I took over the AMV creative department from David Abbot". I met him a couple of years back and we just started talking. We decided that one day we'd like to work together. When the stars aligned he gave me a call and I couldn't wait to go over to work with him to be honest. He's an amazing man. An inspiration.
TA: He's attracted a fantastic line-up of talent.
GD: Yep. It's an exciting team. TBWA feels like a start-up but with brilliant clients already in place.
TA: Is it time to dump the 'digital' word?
GD: Maybe. Who are the analogue people? Sometimes you need deep tech production skills – coding effectively. Executional stuff really, or maybe if you're in an agency that's so backward you need super-charging. I've always seen digital as a kind of mesh that's just over everything. If you look at it like that I think you can't go far wrong. I think the real world test always makes a lot of sense. Go and find what people in the real world are saying. I don't think they're really talking about digital. When they watch iPlayer they'd say they're watching telly. The same is true for the emerging content industry. You've got to avoid talking about content versus non-content when you work with brands because real people don't see it like that.
TA: Real people wouldn't understand the word programmatic but do creatives? Do they need to?
GD: This is where my time at Havas has paid back. It's where the boundary between creative and media is negative and dysfunctional. Media agencies do understand the possibilities programmatic brings but can't create the work to make the most of it. Most creative agencies don't care because it doesn't fit into their way of producing ads. When I use the word programmatic at TBWA, about three quarters of the people know what I'm talking about and that feels high for most creative agencies. There are certain agencies where I suspect you'd have a lot of blank faces.
TA: Would they use a different word maybe?
GD: Maybe targeting or just online media buying. That old quote – about half of my advertising being wasted but which half? – that shouldn't be the case anymore.
TA: But how do you know which half isn't working if it takes three years, say, to buy a car?
GD: Fair point. I think for me you can mitigate under-performance by making sure you're speaking to the right people in the right way. I think that's where programmatic gets exciting for me, when you can start to build very clever enhanced targeting models that can be dynamic with the audience they address.
TA: So you mean programmatic as a segmentation tool to allow you to customise creativity to those groups, rather than to leave them out.
GD: Yes, that's the bit that no one seems to have caught on to yet. We work with a retailer. Imagine a vegetarian household never having to see an ad for meat again. Increasingly, we'll be able to do that even in linear TV. It blows people's minds.
People assume as targeting goes up impact goes down because it always feels like it's small and fiddly, more direct. That doesn't have to be the case. You can be delivering pieces of film that are impactful and grand, that carry weight, but that are still dynamically targeted. We can use data to create a super-rich picture of a person or household but still talk to them with all the gravitas of broadcast, just in a hyper-relevant way.
TA: How does a creative agency makes sure it is at the forefront of tech? How does it get and keep the right people?
GD: It can't be the responsibility of one person. I've seen many agencies that have this kind of digital evangelist or tech evangelist or head of creative tech or whatever you want to call it. It can't be that. You got to infect enthusiasm from the ground right up to management level. Everyone's got to care, everyone's got to be interested, everyone has to want to get involved. If you create a culture of interest, excitement and curiosity then you can bring in the right sort of partners to help you make it a reality. That might be Snapchat or might be ITV.
TA: What has to happen for the boundary between creative and media to, if not disappear, at least stop being an impediment.
GD: There's no panacea or silver bullet. It comes down to people working more closely together, having respectful relationships. Understand that ideas can be co-authored rather than be owned or dictated by one person or agency. I think the best work in future will be when people genuinely come together to share ideas and bring them out into the world.
About The Trade Desk, Inc.
The Trade Desk is a technology company that empowers buyers of advertising. The Trade Desk provides a self-service platform that enables ad buyers to manage data-driven digital advertising campaigns using their own teams across various advertising formats, including display, video, and social, and on a multitude of devices, including computers, mobile devices, and connected TV.
Headquartered in Ventura, Calif., The Trade Desk has offices across the United States, Europe, and Asia.