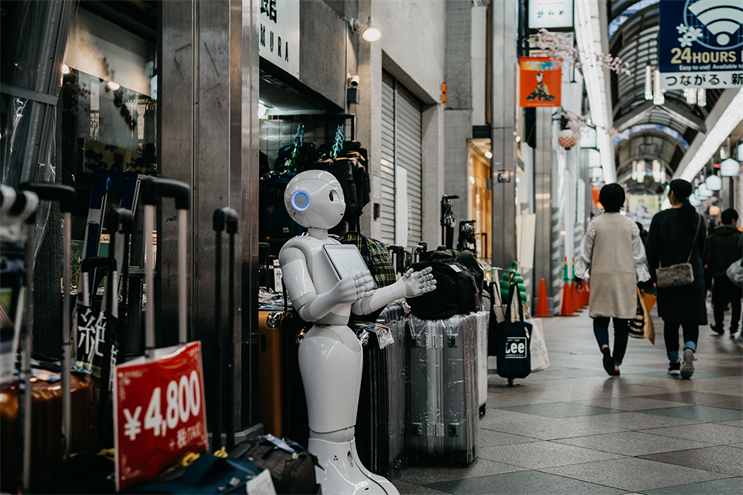 It's 2068 and England have just won the World Cup, held for the first time on reclaimed pitches in the Maldives. Terry Kane (Tezzer to his mates), Harry's grandson, lifted the trophy. Tears of joy everywhere, only 102 years of waiting, worth it though…
Naturally, there are lots of brands waiting to jump on the bandwagon. Or are there? There aren't too many brands left nowadays. Many have simply become part of our programmed lives, decisions made by AI-driven bots on our behalf. These bots know everything we've ever bought, at every price point, and make the decisions for us.
Every now and then though, despite our experiences being largely optimised, something new happens, something that wasn't predicted, a new behaviour begins, a new need is met.
Claim your copy of Karmarama's brand new expert report
When this happens it happens big, and fast. Every now and then, people still display the most human of conditions – irrational, emotive, herd-like interest in something new. These new businesses/services/brands scale like never before. Global, pervasive and deep.
These new businesses are owned and developed by THE CREATIVES, people with some of the most sought-after skills in the world. They create demand, they inspire rapid adoption, they shortcut choice and throw the best formed algorithmic thinking into spasm.
THE CREATIVES are hybrids, entrepreneurs, strategists, they are insightful, and they create the leaps (CREATIVE LEAPS(tm) to create progress. Progress for society, business and the wellbeing of the planet.
The human touch
Amazingly THE CREATIVES used to shape comms ideas into media channels only 50 years ago, but eventually found their true calling, shaping the future of just about everything that's new and exciting.
Back in the old days, relatives of these CREATIVES were part of the first wave of the resistance – before we all realised fighting against the algorithm was futile. Their ethos was then as it is now – brands need to act and think like humans and to see their customers as humans too.
Around 2018, they carried out research into what drives people to buy from brands – their findings formed the founding principles of their group today. They discovered the drivers were half practical and half emotional.
The brands with a focus on the human experience, or HX as they called it, were able to speak to this emotional side and create irrational preference among consumers, a preference that saw people choose their products without considering any others.
To help others understand their earlier thinking, they created guidelines, which they titled Eight Steps to Brand Nirvana. These included things such as having a powerful human purpose, employee alignment, committed service and continuous innovation.
Claim your copy of the expert report for free
A branch of these early CREATIVES also noted if brands followed their eight steps, they would be able to build up positive deposits in an imaginary Bank of Karma. These deposits were able to off set any negative withdrawals when brand experience was poor.
Such was the power of this HX thinking that it created a number of powerful, transcendental brands – some of which make up the small group of brands still selling today.
As England celebrates its World Cup win now, emotions are running high and so are the purchases jubilant supporters are logging with brands they empathise with. Who else would they want to spend such a special time with? In this digitised world of 2068 we'll take all the human touch we can get.
The Fundamentals
In 2068 THE CREATIVES will have many new ways to build relationships, but some things will continue to be fundamental to success.
• BRANDS will still need to stand for something, many will act as broad beacons across categories, and companies with purpose will adapt and scale rapidly.
• CONNECTED seamless experiences, between people, technology and companies will be the norm.
• EXPECTATIONS of consumers will be high; breaking through will involve meeting the greatest of those expectations.
• THE CREATIVES will open new routes to market for the businesses they work for as a matter of course.
• EMOTIONS are still a powerful purchasing tool. In a world characterised by optimisation, understanding the human condition will create the winners.