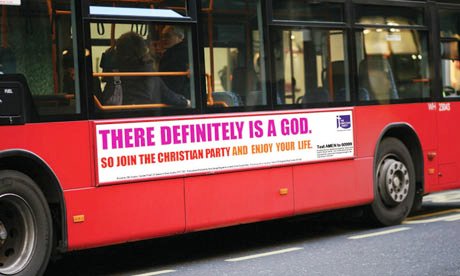 The Christian Party ad, which received 1,204 complaints, infuriated atheists because its central claim could not be substantiated. However, the ASA did not investigate because it said party political ads were outside its remit.

The annual report revealed that the British public made a total of 28,978 complaints during 2009, an increase of 9.6% compared with 2008 figures.

In appropriate eye-for-an-eye style, atheists also managed to offend the religious in an ad by the British Humanist Association, which was placed 6th in the ASAs ranking.
A bus-side poster which stated: "There's probably no God" attracted 392 complaints because it was said to be offensive to believers and, again, because it was deemed party political, it was not investigated.

Overall, there was a 36% rise in the number of complaints about offensiveness, yet the number of actual ads complained about for their offensiveness fell by 11%.

TV remained the most complained about medium and complaints grew 17%. But there was a 3% fall in the actual number of ads complained about.

But topping all media, mobile grew the most in attracting complaints, with a year-on-year increase of 875% complaints, and a 650% rise in the number of ads complained about.

Other ads that made the ASAs top 10 of complained-about ads were Volkswage'ns TV ad featuring scenes of a man fighting a clone of himself with the slogan 'Sometimes the only one you have to beat is yourself'. It attracted 1,070 complaints, which were part upheld.
Home Pride's TV ad for an oven cleaner, which said 'So easy, even a man can do it', caused offence for its alleged sexism.

However, the ASA ruled that it was tongue-in-cheek and did not uphold the 804 complaints.
1. The Christian Party: 'There definitely is a God'

(1.204 complaints. Not investigated)

2. Volkswagen: 'Sometimes the only one you have to beat is yourself'

(1,070 complaints. Part upheld)

3. Home Pride: 'So easy, even a man can do it'

(804 complaints. Not upheld)

4. Advanced Medical Institute: 'Want longer lasting sex?'

(525 complaints. Upheld)

5. Israeli Government Tourist Office: Experience Israel [featuring a map of the West Bank and Gaza Strip]

(445 complaints. Upheld)

6. British Humanist Association: 'There's probably no God'

(392 complaints. Not investigated)

7. Kellogg: featuring a man chasing a rogue shopping trolley with a baby inside, only to save the box of Crunchy Nut Cornflakes

(323 complaints. Not investigated)

8. Pfizer: Rat poison

(312 complaints. Not investigated)

9. SC Johnson: 'Mummy, I want to poo at Paul's house'

(292 complaints. Not investigated)

10. Department of Health: stroke awareness ad
(242 complaints. Not investigated)