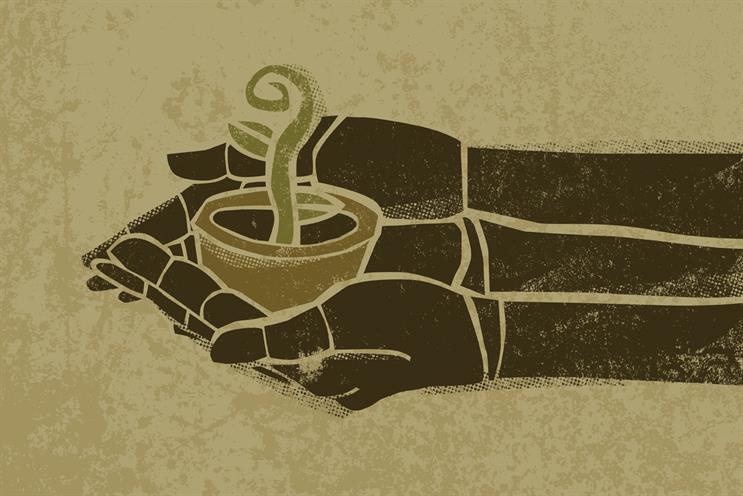 London Advertising, according to Campaign, was the "first breakaway from the world's most famous breakaway", when Alan Jarvie and I set up our own global agency with no start-up clients two weeks after the collapse of Lehman Brothers.
So how did I find myself three years later at Downing Street with David Cameron announcing the launch of our competition to find the best new digital agency with a £100,000 prize in investment funding? (This week, we have just revealed the winners: Kenneth Moore, 24, and James Kirk, 29.)
For all those who have a yearning to start their own agency and want to know how to do it, here are ten key lessons from our experience.
Have a partner you know and trust. Share things equally with them. Always. Alan and I have worked together for 20 years. (We are most definitely the "odd couple".)
Advertising is an oversupplied industry with low barriers to entry. Treat yourself as you would a client and have a clear differentiated brand proposition to drive everything you do. Ours is to offer London Advertising-quality creative anywhere in the world.
Get an advisor that specialises in start-ups and be prepared to pay (handsomely) for their advice. We were fortunate to be introduced to SI Partners.
Be prepared to sell (not give) equity to people who can help you grow to be bigger than you could by yourself. We were fortunate to have attracted Lord Davies (a former chairman of Standard Chartered) and Oliver Pawle (a former vice-chairman of UBS) as advisors and investors.
Understand the tax system. The tax system? Sounds terribly boring when all you want to do is launch the world's most dazzling new creative hotshop.Well, the fact of the matter is that the Government introduced a range of measures that are ideal for companies the size of a typical agency, which is why starting your own is a better proposition than ever before. The problem is that few people know about them, so here are our next five lessons:
If you set up as an LLP, you won't need to pay employer's National Insurance contributions. Overall savings are in the region of 17 per cent of staff costs for the partners. We set up as London Advertising LLP.
Or, from 1 April this year, you can set up as a limited company and benefit from the Seed Enterprise Investment Scheme, which lets you and others invest up to £150,000 with up to 78 per cent tax rebates. Our £100,000 investment in our new digital start-up is being set up under this scheme.
If you have an idea that involves creating a piece of software, you can get up to 180 per cent tax relief on the cost of developing it. The winners of our competition came up with a brilliant idea for a new social media app and we are investigating further tax relief on the cost of building it.
Once you have the funds, buy your own office and hold it in a separate LLP as your pension fund. (If you have a self-invested personal pension, you can use that tax efficiently too.) We set up Jarvinski LLP to buy London House, a stunning six-storey former Victorian rehouse in "Silicon Roundabout" in March.
Once you have built your business and then sell part or all of it, you are eligible for Entrepreneurs' Relief, which means you only pay 10 per cent tax on the first £10 million of any capital gain. (Compare that to paying 50 per cent on a lifetime of precarious bonuses in your current job.) We have not got there yet. But we are working on it.
Now the health warning: the majority of new businesses fail. It is not easy. There are risks. Big ones. Do not do it lightly. Take lots of advice. And don't do anything illegal or that breaks your current contract.
The old adage in the ad world is: only do it if you have a start-up client or two in your back pocket.
We resigned without speaking to a single client or member of staff (we had worked for the Saatchis for 20 years). As you may recall, the world in autumn 2008 was a very scary place. For a new agency to find itself without a single pound of revenue was quite a chilling experience.
Fortunately, within six months, we had secured clients on every continent, so we must have done something right. Ultimately, though, as the saying goes, you make your own luck.
So how did we make our luck to have the support of the Prime Minister to help launch our com­petition, securing three pages of editorial in The Times and coverage in the US, Asia and China?
Well, we had not only noticed all the steps that had been introduced for new start-ups in the 2012
Budget, but also that they had been totally lost in the fallout over the pasty tax.
So we displayed some chutzpah (thanks for the lesson, Chaz and Mo) by approaching Downing Street with the proposition that our initiative would demonstrate why there has never been a better time to start a new company.
All that Cameron asked in return was that we spread the word, which is why I have written this article and why I will be speaking to my son's school (West London Free School) about entrepreneurship next month.
And why I will be happy to meet anyone reading this who would like some informal advice on how to
set up their own agency for a coffee at London House. Just e-mail michael@londonadvertising.com.
Michael Moszynski is the chief executive of London Advertising