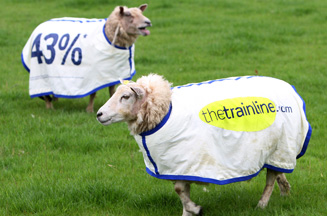 Sheep in a field that runs parallel to the Gatwick Airport to Reading line have been dressed in branded jackets carrying the rail company's logo and latest offer.
The unusual ads support a TV and more traditional outdoor campaign, which launched yesterday.
The company hopes to roll out the sheep ads nationally if feedback about the campaign is positive.
The TV advert for the campaign was shot in Wellington Station in New Zealand. It features 40 sheep who were trained for a month by the sheep handler from the film Babe. The sheep were taught how to "baa" on demand, step out of taxis and read newspapers.