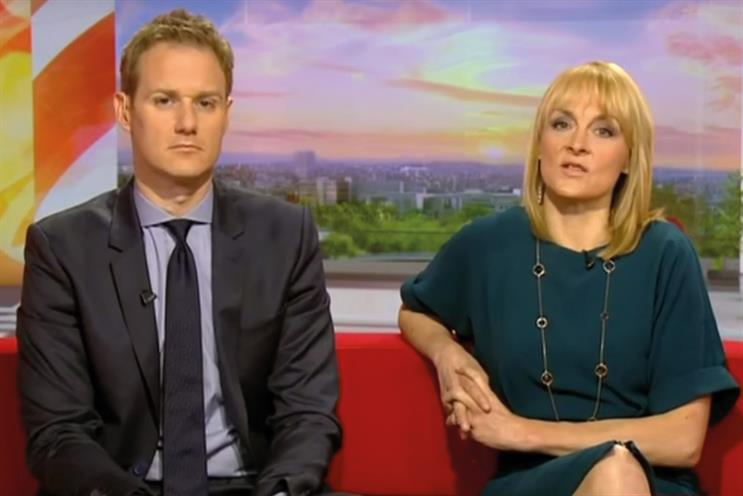 The agency (soon to be split in two as part of a restructure) says "the rapid adoption of internet advertising" is driving British growth, which is far ahead of the 4.1 per cent rate estimated across western and central Europe. ZenithOptimedia expects the global ad market to keep rising "for at least the next few years".
BBC's 'sofagate' row
Maybe the BBC will now think twice about where it seats male and female news presenters. "Sofagate" began when Dan Walker, the new face of BBC Breakfast, literally took Bill Turnbull's place next to Louise Minchin. The plum left-hand seat (as it appears on-screen) is known as "presenter one" by producers, so TV insiders say it should be given to Minchin given her vast experience as a BBC anchor.
Twitter celebrating ten years
It is a decade since Jack Dorsey posted the first Tweet: "just setting up my twttr". Despite its well-documented problems, the social media site now has 300 million users and remains at the heart of newsrooms around the world. Dara Nasr, the UK managing director, says that Twitter users continue to break news first – from Iain Duncan Smith's resignation to the royal births. Twitter has yet to turn a profit but Dorsey, who has returned as its chief executive, is said to be focusing minds on fewer, better ideas. Tweet on!
And one thing we don't…
Hulk Hogan v Gawker
Hulk Hogan has been awarded nearly $140 million in damages for an invasion of privacy after Gawker Media, the scurrilous US gossip site, posted a sex tape featuring the retired wrestler and his friend's wife. Lawyers for Hogan (real name: Terry Bollea) claimed the star was not contacted by Gawker before the explicit video was posted. The media company, which is appealing, said the court ruling will destroy it as well as ruin press freedom. Wags will say it's a shame that both sides can't lose.