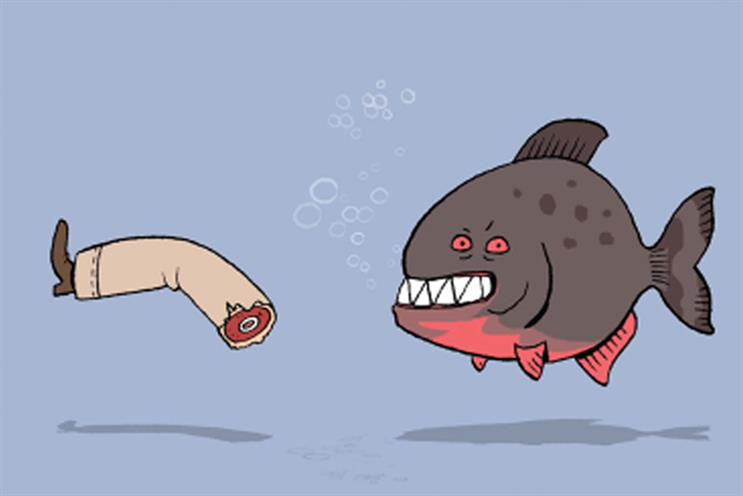 Animated brands
It's good to see animation still alive and kicking in advertising. In the past week, Sky has teamed up with Disney Pixar to use Toy Story characters to promote its superfast broadband, while KFC is running animated ads by Bartle Bogle Hegarty to promote its Streetwise range across E4 (pictured). They follow Metro trains' animated campaign "dumb ways to die" sweeping the board at Cannes this year.
Build Your Vendor A Shop
The Big Issue is holding a national competition to design a place for its vendors to stand in the high street. At any one time, there are between 1,600 and 2,200 men and women out on the streets selling The Big Issue, sometimes facing abuse. Judged by a panel including the designer Wayne Hemingway and PHD's David Wilding, members of the creative community are invited to submit their designs that help protect Big Issue vendors from the vagaries of the British weather to editorial@bigissue.com.
Newsworks' Planning Awards
Newsworks has launched its inaugural Planning Awards to celebrate the talent in media agencies and beyond. It has been nearly two years since the body last hosted the ANNAs – but the Planning Awards aims to be a different scheme for different times. Designed to recognise standards of excellence in a multichannel world, the awards will be judged by a jury chaired by Unilever's marketing chief, Marc Mathieu (pictured).
And one thing we don't…
The Co-op turning moral guardian
The Co-operative this week refused to let its customers make their own decisions, opting instead to ban certain men's magazines from its shelves. Front, Nuts and Zoo, along with the Sunday Sport newspaper, have been banished after the publishers declined to put them into sealed modesty bags. A dangerous precedent has been set, and Campaign hopes that magazines in the celebrity and women's and gay lifestyle categories, which also often have racy front covers, don't now suffer a similar fate.