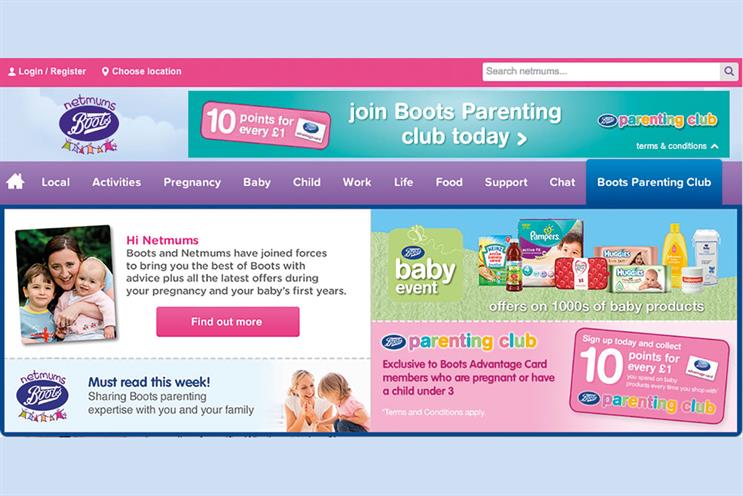 Boots and Netmums tie-up
Some partnerships just instinctively feel right, as is the case with Boots and the parenting site Netmums. The six-figure deal, brokered by OMD, was marked this week with a campaign designed to drive awareness of Boots' baby expertise, including a branded tab on the Netmums navigation bar, exclusive content and registration for Boots Parenting Club.
The FT's new metric
Another week, another media metric for agencies to consider, with "cost per hour" being introduced by the Financial Times' global advertising sales director, Dominic Good. Developed in collaboration with Chartbeat, the new system tracks not just if an ad is seen but for how long. CPH is said to follow a number of trials on FT.com for clients including BP, IBM and iShares. Good says the metric helps with transparency and is a good response to "low viewability" scores and questions about ad placement and fraud.
Trinity Mirror roadshows
Trinity Mirror is nearing the completion of a series of agency roadshows, for which the chief revenue officer, James Wildman (pictured), has been working closely with the group editor-in-chief, Lloyd Embley, to show how flexible the publisher is today. Embley admitted there had been a "massive disconnect" between what the operation was doing in the mass-market space and how agencies regarded it.
And one thing we don't…
Is Fox losing it? Staying with Trinity Mirror, its affable chief executive and Magic Circle member, Simon Fox, tied himself in knots at a breakfast briefing this week. His trick of ripping up a paper while explaining why the print naysayers are wrong went askew at the big reveal. Then, as Trinity's results for 2014 highlighted that a 47 per cent rise in digital revenue was still not offsetting all declines in print, he offered: "Our [print] objective is to outperform the market. To win the going backwards race… or should that be to lose it?" Quite.