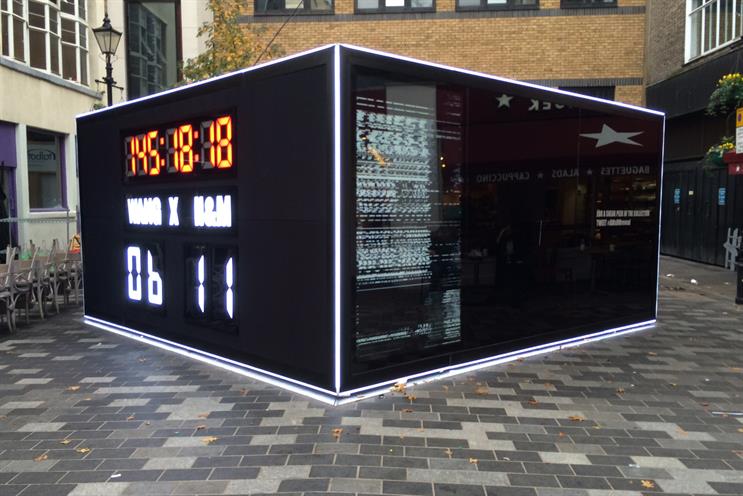 Twitter has already been used for many purposes since its inception in 2006 but, this week, found a new role as the key to unlock a giant box located in the middle of St Christopher's Place, London. By Tweeting #AWxHMreveal, passers-by could activate a panel in The Box of Wang to slide back and reveal an item from H&M's new clothing range. A giant digital clock counted down the seconds until launch. The activity was devised by UM London.
Shift in attitudes to drinking
A Channel 4 poll underlines what government stats have been telling us for a decade – contrary to popular opinion, there has been a seismic shift in young people's attitudes towards risky behaviours and they are leading the way in responsible drinking. The poll found that one in four 16- to 30-year-olds opt out of drinking alcohol altogether. The drinks industry, government, local authorities, police, health services and local communities all deserve credit for the positive cultural changes through tougher enforcement, better ID schemes and targeted education programmes.
The Happy For Life Project
David Cameron is trying to measure it, the Telegraph reports the Brits genetically lack it… but, this week, a new sponsored-content initiative by The Guardian aims to reveal just how happy we are. Guardian Labs has launched a project in partnership with Beagle Street to measure, inform and help people in the UK live happier lives. Practical content on The Guardian will be supported by the launch of an app this month that will monitor the mood of the nation.
And one thing we don't…
Christmas films in autumn
No sooner had the pumpkins made a mess of the kitchen than Christmas arrived – at least, according to Channel 5's TV schedule last weekend. The broadcaster's festive build-up began on Saturday 1 November with A Christmas Visitor, followed by A Carol Christmas (if you liked Charles Dickens' original, wait until you see the Tori Spelling version) and The Town Christmas Forgot. It's the start of the Christmas creep – pre-Bonfire Night. Come on, Channel 5, everyone knows that Christmas doesn't officially start until the festive ads kick in.