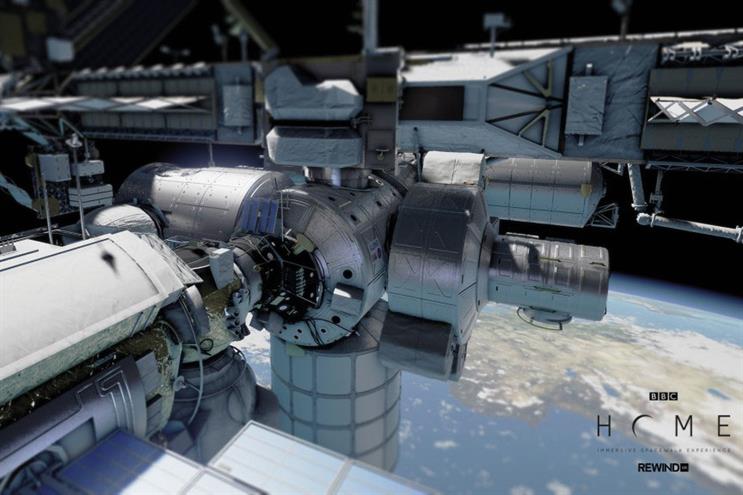 Broadcasters creating VR content
The BBC has released three new pieces of virtual-reality content, including a spacewalk and a migrant's view of being smuggled, to test the public appetite for the medium. "Home – A VR Spacewalk" (pictured) was created for HTC's Vive headset by BBC Learning in partnership with production company Rewind. Participants test their hand-eye co-ordination as they explore the story set 250 miles above Earth, while integrated Bluetooth heartrate monitors feed back the sound of their heartbeat to replicate the enclosed atmosphere of a spacesuit.
Brands getting around ad-blocking
Tesco Mobile is giving customers £3 if they watch extra ads. Owners of an Android phone will receive money off their monthly bill but will need to download an app called Unlockd that shows ads when users unlock their handset. "This is the only proposition I've seen that is simple and delivers value to customers," Tesco Mobile chief executive Anthony Vollmer (pictured, right) said after striking a deal with his Unlockd counterpart Matt Berriman (pictured, left). It's a particularly interesting move in the context of Three's ad-blocking trial.
...And one thing we don't…
Viewers snubbing ITV's EU debate
TV viewers preferred to watch a DIY show fronted by Nick Knowles on the BBC instead of a debate on the future of this country. ITV's coverage on the European Union referendum featured heavy-hitters Boris Johnson (pictured) and Nicola Sturgeon between 8pm and 10pm last Thursday yet pulled in only three million viewers – although that made it the second-most-watched show in this time slot.