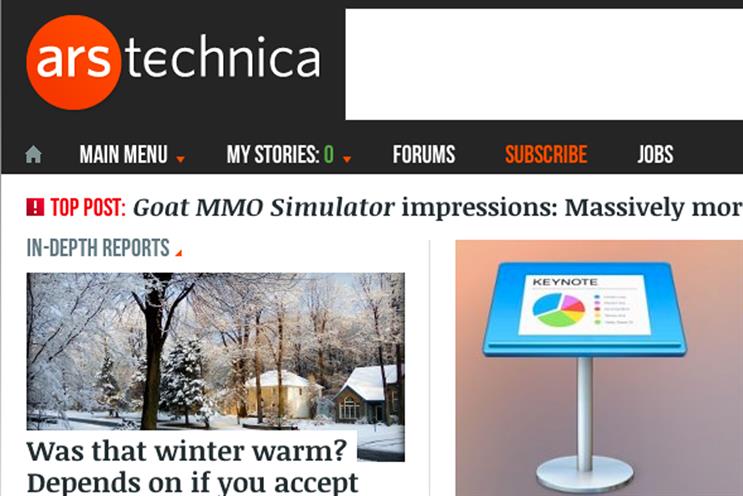 Condé Nast getting technical
Condé Nast is pulling out all the stops for the UK launch of the tech news site Ars Technica (from Latin for the "art of technology"). It's the first UK launch since it imported Wired in April 2009. You could be forgiven for thinking the two plough the same field, but the publisher stresses while Wired is all about "the future of technology", Ars Technica is about insights into today's tech. The business director for the site, and keeping it in the family, is SI Newhouse IV.
News and mags mobile boost
More rays of light for news and magazine brands in the latest quarterly PADD survey to include mobiles. The Daily Mail led the charge with a combined readership of almost 23.6 million. Next was the Daily Mirror at 16.8 million, ahead of The Daily Telegraph and The Guardian at 16.27 million and 16.26 million respectively. In magazines, mobile and tablets increased Cosmopolitan's readership by 31 per cent to 2.2 million, while BBC Good Food can lay claim to the biggest monthly reach, with 6.1 million readers.
Digital radio at Christmas
"If you love radio, give digital this Christmas" is the message from Digital Radio UK. Since Friday, ads across commercial and BBC Radio are positioning digital radio as the perfect present this year. And costing from as little as £25, they are said to be a far better alternative to musical socks. Suzi Perry of Channel 5's The Gadget Show is among those talking up its benefits. Digital listening currently accounts for 37.8 per cent of all UK radio listening hours.
And one thing we don't…
Fictitious phone-hacking
As YouTube's vloggers, led by Zoella, look set to battle it out to be top of the book charts this Christmas, British journalists are bracing themselves for another wave of bad feeling with the launch of Wacko Hacko. Nasser Hashmi's fictitious plot of the phone-hacking scandal promises to stir up some all-too-recent ghosts. The protagonist, Jamie Parkes, goes from shift reporter to the king snoop. Expect Rottweiler editors, slippery section heads and shady characters aplenty.