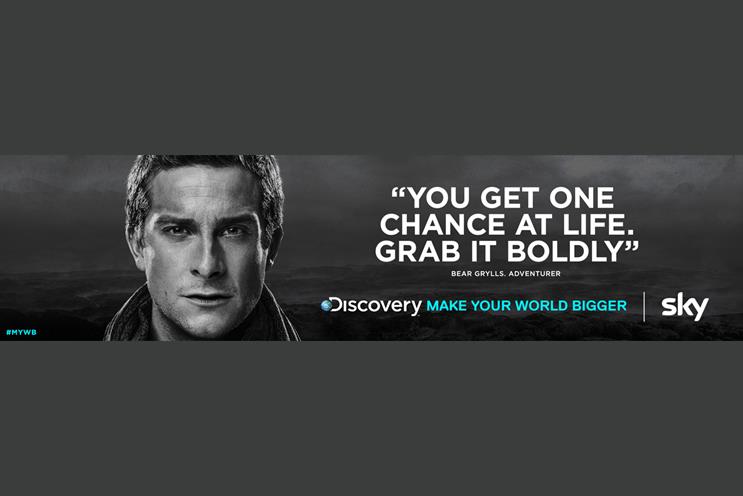 Let's party like they do on the Discovery Channel. The broadcaster is celebrating 25 years in the UK this month with a new brand proposition: "Make your world bigger." The in-house campaign champions the channel's mission to "entertain, engage and enlighten" with a series of TV spots featuring talent such as the explorer Ed Stafford and the adventurer Bear Grylls. The UK was one of the first markets to launch Discovery outside the US in 1989.
Oliver launching Drinks Tube
First he taught a new generation how to cook, now he has turned his hand to branded content – and he's proving to be pretty good at it too. Jamie Oliver expanded his multimedia operation with the launch last week of Drinks Tube – a clever new three-year partnership with Bacardi. The new YouTube channel features Bacardi brand ambassadors, mixologists, bartenders and its range of products. Drinks Tube is a companion to Oliver's existing Food Tube channel, which already has more than one million subscribers. Traditional broadcasters, are you watching?
Cameron on the airwaves
Good to see the Prime Minister, David Cameron, making time for local radio last week when he visited the Midlands-based Free Radio. Listeners tuning into Foxy & Giuliano's breakfast show just after 7.30am last Friday heard Cameron throw his weight behind the inspiring fundraising campaign by Stephen Sutton – the cancer patient from Staffordshire who has so far raised £3 million for the Teenage Cancer Trust. Phil Riley, the chief executive of Orion Media, which owns Free Radio, was "thrilled" with the support.
And one thing we don't…
Sky's predicted demise
Reports of BSkyB's demise, or at least a fall in TV customers, proved wide of the mark. Analysts from both Berenberg and Credit Suisse were left red-faced last week when the satellite broadcaster added 74,000 new pay-TV customers during the first three months of 2014. Revenues for the latest nine-month period were up 7 per cent to £5.7 billion, with paid subscriptions up 13 per cent. Sky tells Campaign that BT Sport's impact has been exaggerated, with Sky's average audience for live Premier League matches up 7 per cent on last season.