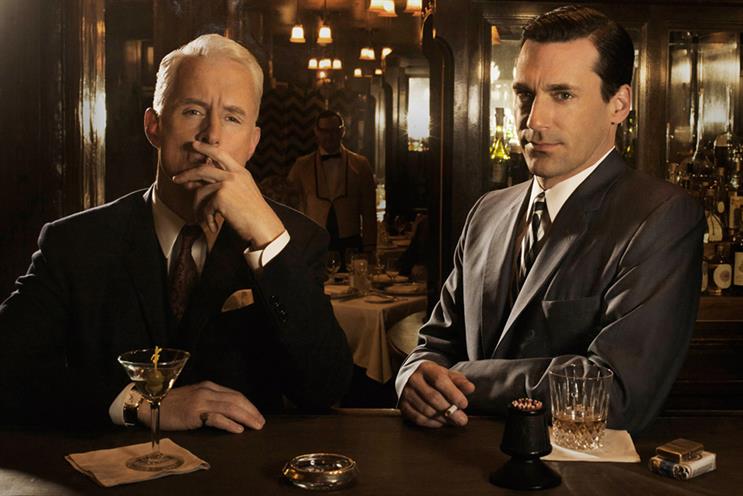 Mad Men's last hurrah
The end is in sight for Don Draper and his fellow Mad Men, with the seventh and final season of the HBO series launching this week. Aired on Sky Atlantic in the UK on Wednesday, the Madison Avenue-based drama began with a reading from Dante and ended with the show's hero, Draper, heading for hell. The concluding episodes of the best advertising drama ever look set to be essential viewing.
IAB cleaning up online ads
There was reason for cheer for online advertisers this week with the arrival of standards to make sure paid-for ads are actually seen by users. It is hoped the advice from the Internet Advertising Bureau will help kick-start trade against viewability. It is stated that at least half of an ad's pixels must be in view of an internet browser for a minimum of "one continuous second" to qualify as a viewable display impression. Obvious stuff, perhaps, but, up until now, far from guaranteed. Additional European markets will follow.
Daisley and Collins lining up for Media Week Awards 2014
Some things are just meant to be – and so it felt with the news that MediaCom and Twitter's respective managing directors, Claudine Collins and Bruce Daisley, will take centre stage as the co-chairs for this year's Media Week Awards. Make sure the ceremony, on 23 October, is in your diary.
And one thing we don't…
Questions hanging over the Culture Department
While few tears will be shed at the departure of the Culture Secretary, Maria Miller, last week, at least she brought some relevant experience to the role – unlike her successor, Sajid Javid. Appointing a business specialist, albeit a high-flying one, appears to show a lack of understanding of, and appreciation for, the Department for Culture, Media & Sport at No10. His initial outing on Question Time did prove he can be sharp and articulate. Let's hope Javid proves his doubters wrong.