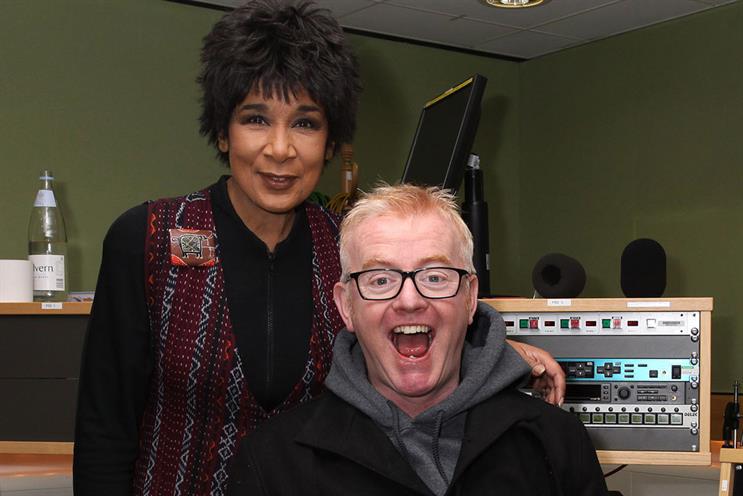 Enduring appeal of radio
Radio continues to play to the crowd, according to last week's Rajar figures. Commercial radio attracted 48.1 million adults each week in the first quarter, up 800,000 on the same period last year. Listeners are increasingly embracing new formats, with 27.1 million tuning in via digital TV, DAB radio and online – up 4 per cent year on year. However, the king of the airwaves remains BBC Radio 2's Chris Evans (pictured, with Moira Stuart), whose breakfast show attracts nearly ten million.
Newsworks' tablet insights
Publishers have suspected that tablets offer a stronger context for advertisers ever since the inception of Apple's iPad in 2010, but little research had been conducted around the subject – until now. Newsworks' Tablet Project tracked 20 campaigns across five key sectors and found that, depending on sector, responses to tablet ads can be up to 40 times higher than those online. And while online considers half an ad seen in a second as being "viewed", tablet ads averaged seven seconds' dwell time.
TV's increasing effectiveness
Through recession and tech upheaval, TV continues to prove itself as the most effective medium for brands. Far from losing its edge in this fragmented age, TV advertising has become more effective over the past three years, according to an Ebiquity study of more than 4,500 campaigns. Commissioned by Thinkbox (so a pinch of salt is required), Payback 4: Pathways To Profit found that TV provided an average return of £1.79 for every £1 invested during 2011-14, up from £1.70 for the three previous years.
And one thing we don't…
Feeling old
It's hard not to feel old as media milestones come and go. And so it was this week, as Oasis reissued its debut album, Definitely Maybe (on digital download, standard CD and special-edition three-disc set), to mark its 20th anniversary. Meanwhile, for those still feeling like time is on their side, let's remind you that Facebook's Mark Zuckerberg turned 30 last week, with a net worth nearing $30 billion.