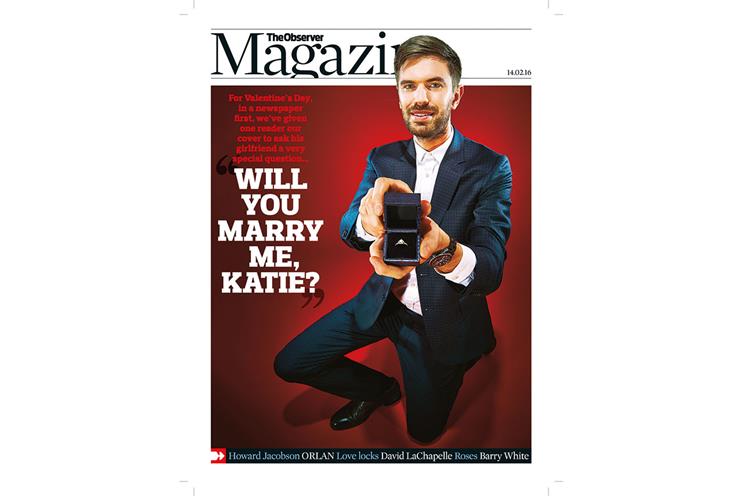 The Observer Magazine gave away its front cover last Sunday to a reader, James Greig, who was photographed down on one knee with an engagement ring for his girlfriend, next to the headline: "Will you marry me, Katie?" The magazine said the proposal is a first for a national newspaper. Katie said "yes" to the Valentine's Day proposal.
New entertainment on ITV
Rickie Haywood Williams and Melvin Odoom, the Kiss FM presenters, will host a new weekend programme called Bang On The Money on ITV in the spring. In the game show, contestants will complete a series of challenges and aim to score a figure that exactly matches one that has been chosen by opening a box. After years of entertaining Kiss' breakfast listeners and appearing on BBC Three and MTV, the duo finally get to front a primetime show.
Apple's first TV series
Dr Dre will star in the first drama series for Apple in a show called Vital Signs, according to The Hollywood Reporter. The programme is described as a "dark semi-autobiographical drama". Dr Dre joined Apple in 2014 when the tech giant bought his headphones and speakers business, Beats by Dre. Reports say the show will be distributed through Apple Music, the streaming service, and it is unclear whether it will be available on Apple TV. Watch out, Netflix.
And one thing we don't…
John Humphrys trying to rap
The BBC Radio 4 presenter John Humphrys (pictured) took inspiration from Dizzee Rascal and Lethal Bizzle as he attempted a bit of grime-style rap to introduce the Thought For The Day feature. One thing is for sure – Humphrys should stick to the day job. His outburst followed a discussion about the under-representation of young black men and the grime genre in the 2016 Brit Awards shortlist.