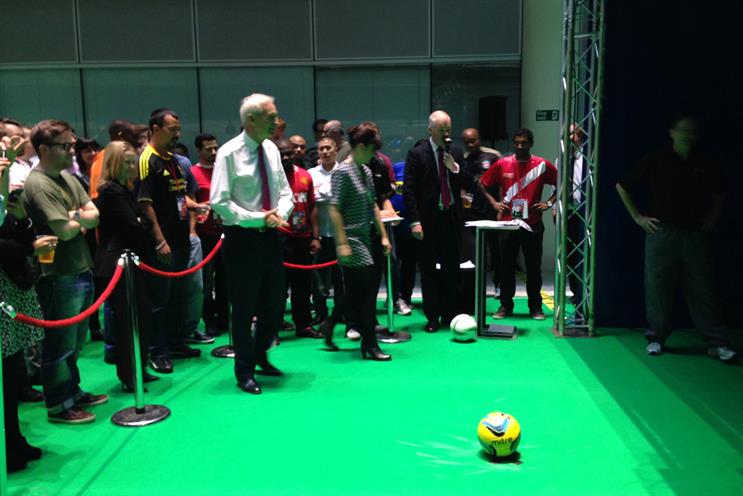 Early goal for ITN Productions
To celebrate ITN Productions' partnership with News UK to produce Premier League football clips for The Sun and The Times, ITN's Gray's Inn Road HQ was transformed into a replica football pitch last week. Teams from across ITN (including the Channel 4 News presenter Jon Snow, pictured) and ITV News took part in a penalty shoot-out contest, which was won by the video specialist Rightster.
Greenwald's new venture
As commercial pressures continue to erode the editorial mix, news of The Guardian journalist Glenn Greenwald's new venture has to be celebrated. Best known as the reporter who broke the NSA surveillance story, the 46-year-old now plans to launch an independent media site based on investigative journalism. He has the backing of eBay's founder, Pierre Omidyar, and his ambitions are for the site to be more than a niche product, covering sports, business, entertainment and technology, as well as politics. Initially based in US cities, watch this space.
Merchant keeps it real with HBO series
Stephen Merchant's new HBO series, which has just debuted in the UK on Sky Atlantic, makes a welcome addition to the stellar shows on the channel. What's even more striking about the comedy, Hello Ladies, which follows a lonely, hapless British computer geek looking for love in Los Angeles, is that it appears true to Merchant's original and honest comedy roots in the plight of the anti-hero – something that his erstwhile comedy partner and our one-time hero Ricky Gervais has sadly ditched for things a bit more schmaltzy.
And one thing we don't…
BT Sport's foul play

BT Sport has apologised after its host, Jake Humphrey (pictured), wound up the retired French footballer David Ginola so much about his attire that he responded with a "wanker" hand gesture live on air. The broadcaster attracted its largest audience to date for its Newcastle v Liverpool game at the weekend, peaking at 832,000 viewers. All eyes will now be on BT's trading update next week.