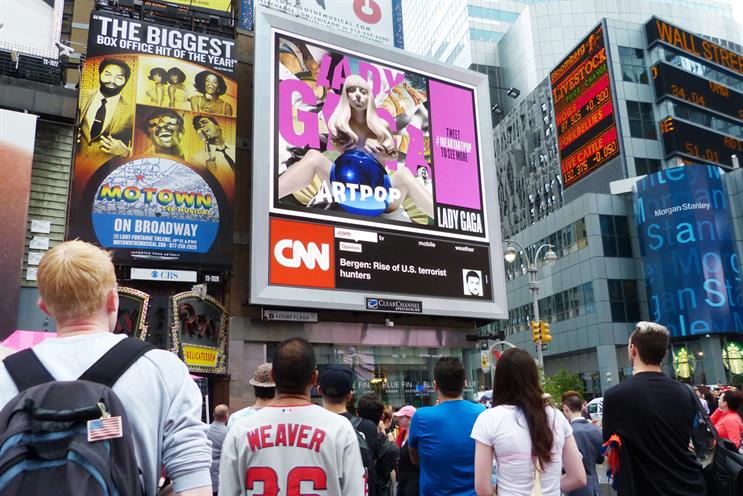 Lady Gaga's partnership with Clear Channel
Lady Gaga used Clear Channel's digital outdoor network to première the cover of her new album at exactly the same time in key cities on 7 October. Details of ARTPOP, which was designed by Jeff Koons, were revealed every few minutes. Twitter fans using the hashtag #iHeartARTPOP could see their Tweets incorporated into the background of the ad.
Time Out's universal mobile app
Time Out has continued to ramp up its digital offering with a new universal iPhone app. It replaces the brand's individual city apps by serving location-based information through a single platform starting with London, New York, Los Angeles and Paris. Users can switch locations to see editorial recommendations from local teams. The move means advertising campaigns can tap into the company's global scale and flexible ad units. MasterCard has already signed up to sponsor the London element of the app.
LBC turning 40
LBC Radio celebrated its 40th birthday this week with a suitably lavish party at Millbank Tower's Altitude 360. LBC's news and entertainment service for London has the claim to fame of being the UK's first legal commercial radio station, making for an industry-wide celebration. More than 250 guests from broadcasting, politics and beyond joined Boris Johnson and the LBC presenter Nick Ferrari to mark the occasion in style.
And one thing we don't…
Weak app regulation
Urban Airship's study into push notifications shows that regulation in the world of app development remains hit and miss. There's a particularly twisted example in the My Pet app. One nine-year-old girl was coerced into feeding her virtual pet or spend (real) money buying a new one, with messages calling her an "unfit owner" and threatening to contact animal welfare, as well as ones from the "pet" itself decrying "I thought you loved me" and "you'll pay for this on Judgment Day". The girl's mother was understandably reported to be "horrified".