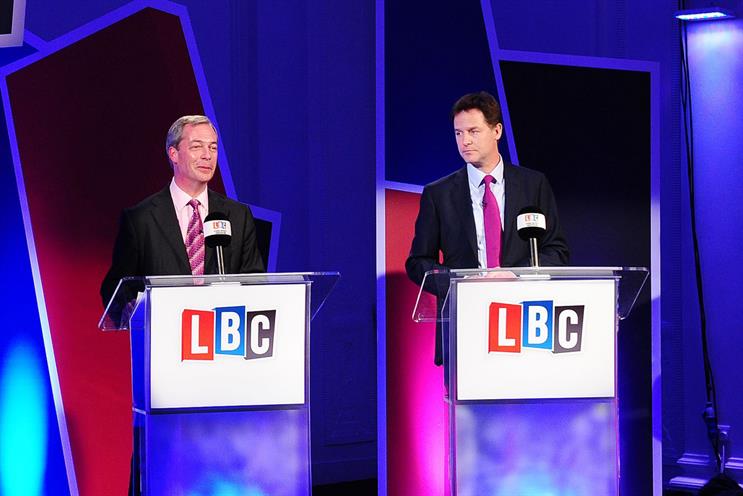 LBC's 'debate for Europe'
Touted as the "debate for Europe", no less, last week's showdown between Nigel Farage and Nick Clegg didn't disappoint. The real winner on the night was Global Radio's LBC, which continues to go from strength to strength. The event garnered extensive media coverage, including on primetime TV, and follows LBC's national launch last month, courtesy of digital radio.
FIPP's innovation insights
"Having a great idea is not enough. It is the manner in which ideas are executed that counts. Implementation will always trump ideas," according to the magazine firebrand Felix Dennis. The emotive comment sets the scene for the fifth edition of FIPP's Innovations In Magazine Media World Report. The 126-page document demonstrates an amazing range and vibrancy of thinking from around the world, from native ads and big data to going mobile and video and print innovations. See
FIPP.com for more.
Commercial media's success at the TV & Radio Awards
There was much for commercial media to celebrate at the Broadcasting Press Guild's 40th TV & Radio Awards last week. The ITV drama Broadchurch claimed three awards, including Best Drama Series; Channel 4's Gogglebox (pictured) won Best Factual Entertainment; and Sky was presented with the Innovation Award for 25 years of leading the charge in pay-TV.
And one thing we don't…
Hack attacks on news outlets
More shocking revelations into the extent of online state espionage have come to light, with new research from Google claiming that more than four-fifths of the world's top media organisations have been the target of likely government-backed hacking attacks. The study, presented at the Black Hat Asia 2014 conference in Singapore, vindicates fears about abuses of data and privacy rights by those in power. We are now relying on Google to keep a watch on the activity of governments… you really could not make it up.