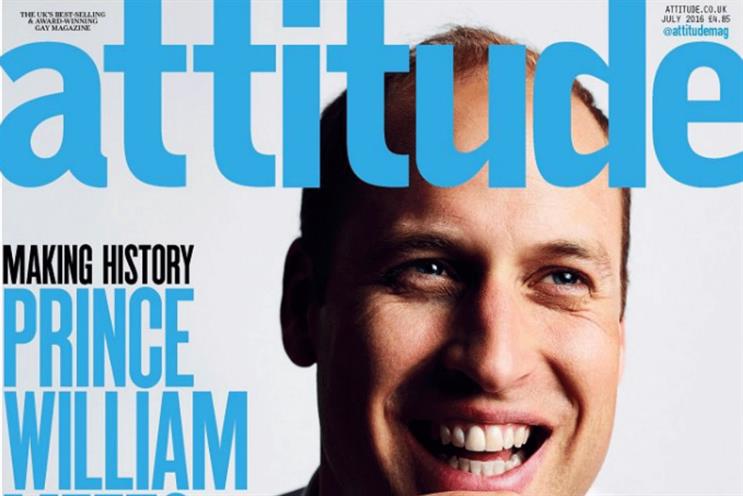 Liverpool in 360 degrees
Liverpool FC is claiming a first with its live, 360-degree YouTube broadcast of its friendly away against Huddersfield Town on 20 July.
Fans could control the view from the halfway line to look around the stadium. That didn't stop one fan flying a drone over the John Smith's Stadium for an alternative view – though he ended up getting arrested for his trouble.
There has been a recent boom in innovation among Premier League clubs, with Manchester City experimenting with virtual reality and messenger bots. It's great news for fans who want to be up close and personal with their clubs without forking out for season tickets.
Wills helping to boost Attitude sales
Attitude has said its edition featuring the Duke of Cambridge on the front cover, which was published last month, is set to become one of its biggest-selling issues.
In an interview that attracted widespread media coverage, Prince William spoke about homophobia and expressed his views against bullying people "because of their sexuality or any other reason". He also said that young people should seek help if they are facing such problems.
...And one thing we don't…
Irresponsible journalism
Kelvin MacKenzie plumbed the depths of tasteless "journalism" once again when he used his column in The Sun to criticise Channel 4 for allowing hijab-wearing Muslim presenter Fatima Manji to do her job and report on the atrocity in Nice.
After Manji complained to Ipso, MacKenzie followed up this week by suggesting that he would complain to Ofcom on impartiality grounds.
With June's ABC figures showing an upswing in sales among UK newspapers, it's clear that the press does not need to provoke a furore to get noticed. After the European Union referendum divided the nation, the press industry ought to be finding ways to heal the rift. It could do worse than emulate Channel 4, which deserves to be lauded for championing inclusiveness.