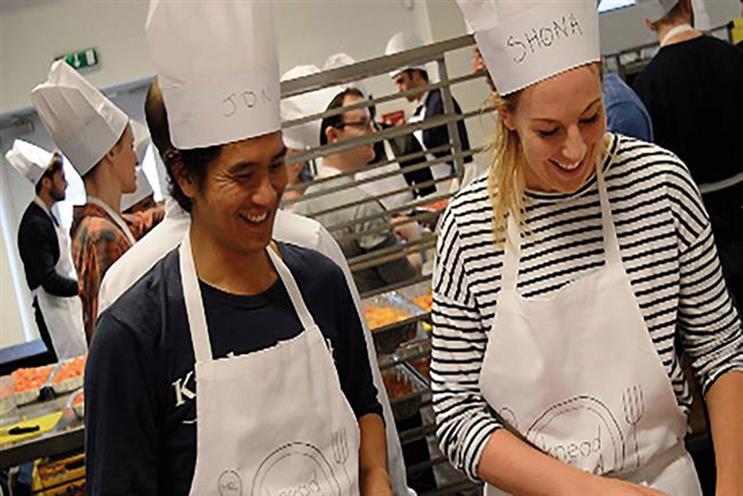 The project, "Knead and Feed", took place at the home of Saracens rugby club. The day saw people from MEC's London and Manchester offices come together to cook five different dishes, which were then frozen for FareShare to store and distribute to its London-based community food members.
STV bidding for Freeview slot
STV's chief executive, Rob Woodward, has confirmed the Scottish broadcaster is in discussions with regulators to take over an empty slot on Freeview. Channel slots on Freeview are hotly contested and public-service broadcasters are supposed to be given precedence when a slot is vacated. Giving STV a slot would be more welcome than the BBC's proposal, which is to launch a BBC1+1 channel. Surely iPlayer does the catch-up TV job well enough?
TV execs doing Big Brother
One thing you may not have seen at the Edinburgh TV Festival was Edinburgh Does Big Brother, a take on the Channel 5 reality TV show. Eight television executives were locked in a house for 24 hours. The inmates included Ash Atalla, the managing director of Roughcut, and Zai Bennett, the boss of Sky Atlantic. The winner was Dan Baldwin (pictured), the founder of Hungry Bear, who impressed with his dancing and Donald Duck impression.
And one thing we don't…
Tabloids crossing the line
Tabloid newspapers are well-known for publishing controversial images on their front pages, often rightly in the public interest. But last week's decision by The Sun and the Daily Mirror to publish still images from the live video feed of two American TV news crew being shot dead is surely crossing the line of decency. The journalist, Alison Parker, and the cameraman, Adam Ward, were reporting live from a shopping centre in Virginia when a disgruntled former colleague allegedly shot and killed them.