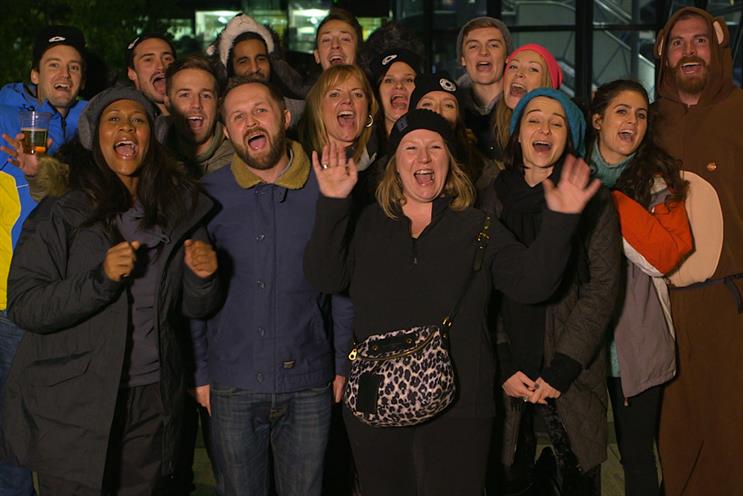 MediaCom out in the cold
The agency's chief executive, Karen Blackett, led a team of 16 in a sleep-out last week to raise awareness and donations for its client Centrepoint, joining more than 700 people in the charity's annual fundraiser. MediaCom raised more than £7,000 towards Centrepoint's target of £350,000. Donations can be made at justgiving.com/teams/MediaComSleepout.
MTV EMAs enjoying a high
The EMAs ended on a high last Sunday. Having won Video of the Year with Wrecking Ball, Miley Cyrus continued to stomp on her ex-Disney image by smoking a joint on stage. Held in Amsterdam, where cannabis is legal, the stunt guaranteed headlines. Cyrus also christened her fans "smilers" to compete with Katy Perry's "Katy kats", Justin Bieber's "beliebers" and One Direction's "directioners". The EMAs, which received 292 million votes, used the hashtag #EMABiggestFans to determine which artist had the biggest fan base, which was won by Tokio Hotel.
Jolly good show for ITV
ITV and Carnival Films have announced there will be a fifth series of Downton Abbey. Sunday's season-four finale peaked with 10.5 million viewers. With a consolidated average of 11.8 million viewers for the series, the show is the highest-rated drama on British TV by a country mile. And it's not only we Brits who lap up fictional antics of a bygone era – since its debut in 2010, it has been sold to more than 220 territories and is viewed by an estimated global audience of 120 million people.
And one thing we don't…
British press mess
The Culture Secretary, Maria Miller, added to the confusion over the regulation of the national press by saying she prefers the industry to find its own solution. The Independent Press Standards Organisation should be allowed to see if it is a workable solution, apparently – suggesting the Government's own royal charter is dead in the water.
Meanwhile, the World Association of Newspapers and News Publishers is leading an unprecedented press-freedom mission to the UK, the likes of which have been previously sent to Ethiopia, Libya and Colombia.