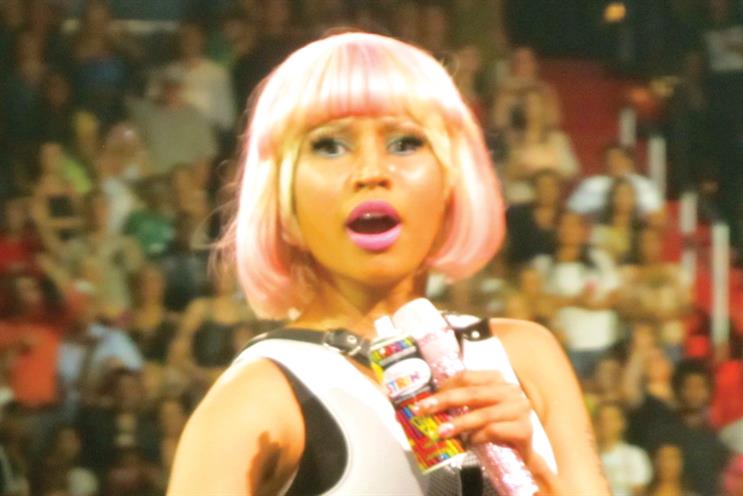 Viacom leveraged its new acquisition this week when Channel 5 helped the MTV Europe Music Awards reach record viewing figures. The event attracted more than 2.3 million viewers in the UK after a group decision was made to broadcast it on C5. The show garnered almost six times as many viewers (551,000) on C5 as it did on MTV's own channel and website (97,000). Hosted by Nicki Minaj (pictured), there were performances from U2 and Ed Sheeran.
The FT's How To Spend It fundraiser
The Financial Times is preparing a special fundraising issue for How To Spend It on 29 November, in which every item and experience pictured will be auctioned in aid of Save the Children. The auction will be handled by Christie's between 29 November and 11 December, with all proceeds donated to the charity. The FT's glossy monthly magazine continues to defy wider print market trends; in 2014, the title is on track to post its highest pagination and record ad revenues, according to the publisher.
Channel 4 going programmatic
Brands will be able to buy ads programmatically – with access to first-party viewer data – on Channel 4's on-demand platform, All 4, from next year. At its upfront event, C4 laid claim to being "the first broadcaster in Europe" to develop such a platform for agencies. The broadcaster's database now includes half of all 16- to 34-year-olds in the UK. Jonathan Lewis, the digital innovation and partnerships chief, called the move "another game-changer".
And one thing we don't…
'Fake Sheikh' Panorama postponed again
Feels like a case of once bitten, twice shy for executives at the BBC as James Harding's news and current affairs team chose not to broadcast Panorama's much-anticipated exposé of The Sun on Sunday's Fake Sheikh on Monday. The episode on Mazher Mahmood promised to detail sex, drugs and subterfuge, all in the name of public interest. However, it was pulled from its original scheduling despite the BBC winning a last-minute battle with Mahmood's lawyers relating to one of the cases in the programme. The BBC did eventually broadcast the show on Wednesday.