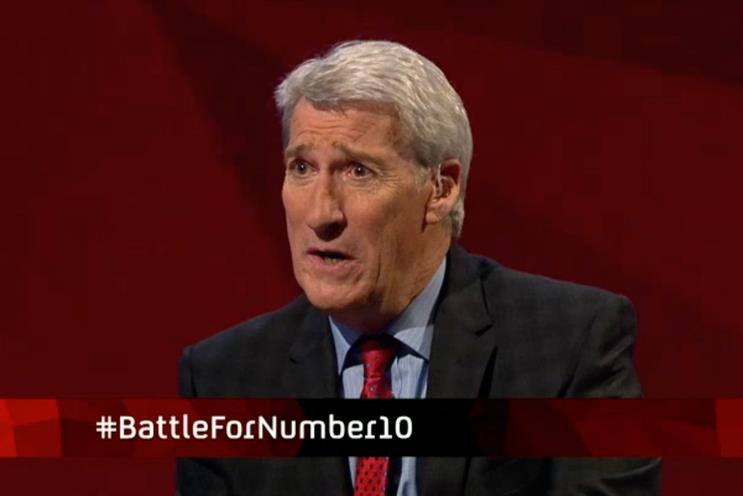 The return of Paxman
Cameron & Miliband Live: The Battle For Number 10 attracted a peak of three million viewers (a 15.3 per cent share) on Channel 4 and 387,000 on Sky. In a boost to politicians keen to engage younger voters, the debate recorded the highest share of 16- to 34-year-olds (20 per cent) between 9pm and 10.35pm. It was also the second-most-Tweeted-about show of 2015. Perhaps the biggest winner was the return of the sneering Jeremy Paxman (pictured) in the role of TV anchor.
Trinity's ambitious plans
We've always been fans of guile and gumption, and Trinity Mirror displayed both last week. The media group is rumoured to be circling Local World, the regional press publisher, as well as being in talks with Northern & Shell about a potential purchase of the Express. There are benefits to be had from creating more scale in the regional press market, where Trinity is already the biggest player. There will be likely cost savings, too, for both operations if acquired from shared resources alone. But what we like most is the ambition behind the moves and the statement of intent.
Sorrell at Ad Week
You could only marvel at how Sir Martin Sorrell managed to dominate Bloomberg's "interview" at Advertising Week Europe. WPP's chief executive steamrolled the TV anchor Francine Lacqua for 45 minutes with his take on the business. Twitter comments noted Sorrell had effectively "interviewed himself" as Lacqua failed to interrupt his flow. One of the only unscripted and revealing insights gleaned from Sorrell came inadvertently when correcting his introduction from Matt Teeman: "I don't own WPP. I wish I did but I don't." Take a look for yourself at http://tinyurl.com/q5xhnuh.
And one thing we don't…
Clarkson-gate
We never like to see people getting fired but, once it was made public that Jeremy Clarkson had shouted at a Top Gear colleague for 20 minutes before lamping him, he had to go. There are few industries where the talent – even when recognised as best-in-class – can get away with punching people at work… although adland is possibly one of them.