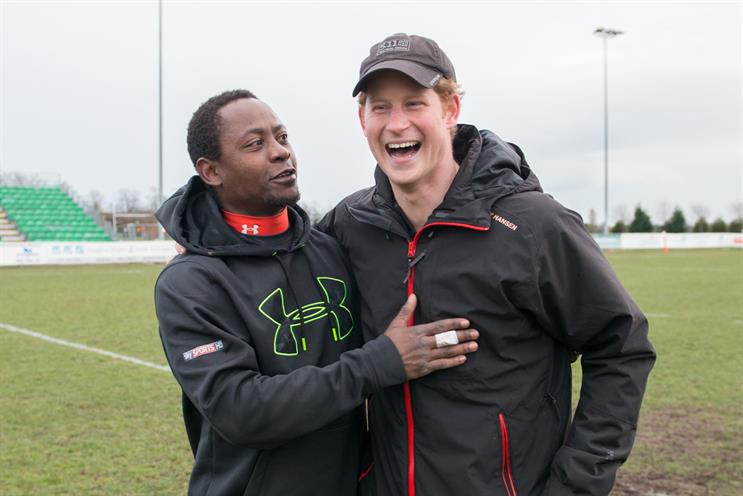 Royal support for Sky's #SOHK
Now in its seventh series, Sky Sports' School Of Hard Knocks remains real-life TV at its best. The programme's premise to use sport to tackle the issues surrounding unemployment, crime and health is, of course, commendable, but it is the commitment from the rugby legends Scott Quinnell and Will Greenwood that truly makes it work as a show. Sunday's guest appearance from Prince Harry (pictured, right) on the training ground was another coup. The series ends on Friday.
More tuning into audio
Good news for those working in the radio industry this week as a new study tracked growth in audio listening. The Radio Advertising Bureau presented data from the Rajar MIDASplus survey. Radio reach remains stable, accounting for 70 per cent of all time spent listening. However, the increase in on-demand listening has boosted the weekly reach of total audio audience from 1,395 million hours in autumn 2012 to 1,472 million hours in spring 2014. The RAB's planning director, Mark Barber, welcomed the "new, potent, opportunities for advertisers", from Spotify to podcasts.
Fifty years of Business
The Sunday Times celebrated the 50th anniversary of its Business section with a one-off magazine this week, including articles by Baroness Patience Wheatcroft, Rita Clifton and, of course, Sir Martin Sorrell. Lloyds Bank, Anglo Amercian, Aviva and Tesco were among the advertisers. Dominic O'Connell, the business editor at The Sunday Times, says: "Our section broke – and still breaks – the big stories, as well as bringing to life the big personalities behind the numbers."
And one thing we don't…
Questions around Twitter
Twitter is fast becoming the media's favourite collaborator, making last week's Companies House filing all the more disappointing. According to reports, the company, which has recently brokered some big partnerships with media owners, appears to be funnelling much of its ad revenues offshore for tax purposes. Twitter UK filed abbreviated 2013 accounts for a small company under Companies House rules, usually applicable for operations with a turnover of less than £6.5 million, fewer than 50 staff or a balance sheet of less than £3.26 million.