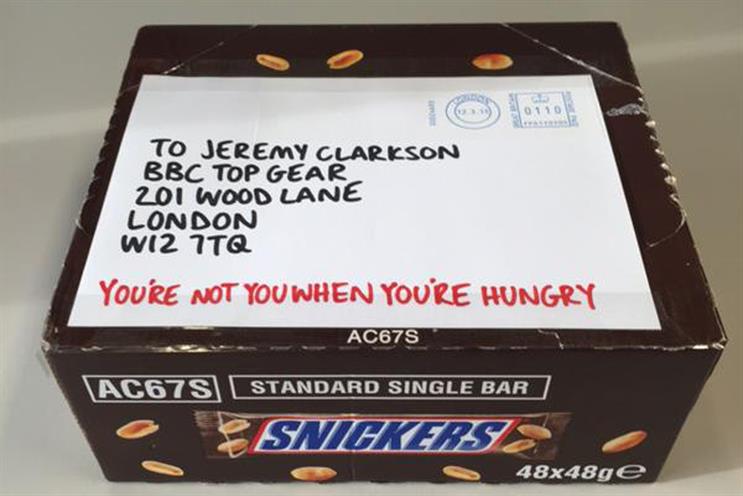 Snickers' Clarkson stunt
We are the first to admit that PR stunts can often look a bit, well, naff. We've all seen those brands desperate for the limelight trying to do a "Paddy Power" and attach themselves to the latest story of the day. But when there's a proper fit, the results can be impressive. And so they were when Snickers extended its "you're not you when you're hungry" campaign by sending 48 bars to Jeremy Clarkson following his "fracas" with a producer over food last week.
Sky targeting new advertisers
Advertising on television is no longer just the preserve of the biggest companies – at least according to Sky. The pay-TV operator formed a partnership with the British Chambers of Commerce last week to help run a series of seminars designed at turning small and medium-sized enterprises on to the new Sky AdSmart service. The option to tailor ads to specific audiences based on postcodes, affluence and other household characteristics could make TV more of a consideration to a whole new set of advertisers.
Tinder prank at SXSW
Staying with impactful PR stunts, word reaches us that Tinder users at SXSW were left heartbroken by a stunning 25-year-old woman called Ava. A series of casual exchanges about love and life turned out to be clever promotion for the film Ex Machina via the Swedish actress Alicia Vikander, who plays a robot in it (pictured). Many nerds felt duped, but the ensuing mickey-taking among friends has provided word-of-mouth marketing on steroids.
And one thing we don't…
Cool banking
Some things, such as Tony Blair's lucrative Middle East exploits and pretty much everything James Corden does, just make you wince. Into the mix, you can also add banks trying to be trendy. So Money Stuff – Nationwide's new YouTube channel to show how fun finance can be – has much to prove. Brokered by Havas Media and launching this week, the platform will target 14- to 16-year-olds with five of YouTube's biggest stars "speaking to teenagers on their level" about money and stuff, innit? Hopefully, it is better than it sounds.