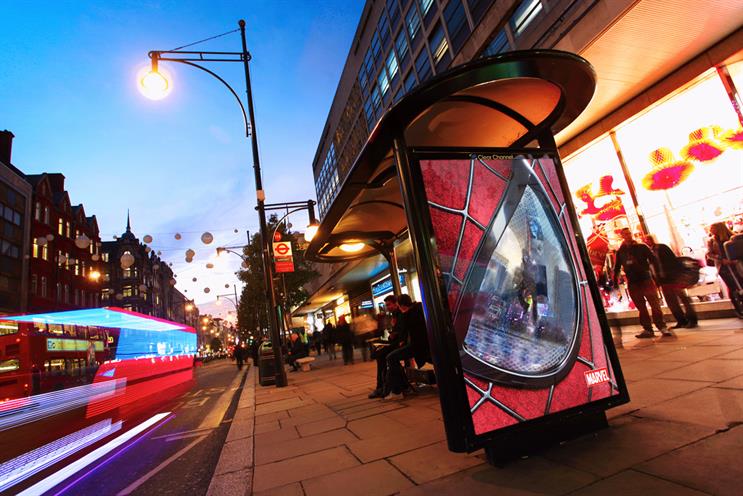 Spider-Man going Electro
If you've had a strange sensation walking down the street this week, don't worry – it's not your Spidey-sense kicking in, it's the new outdoor ads for the latest Spider-Man film. To promote The Amazing Spider-Man 2, which opens on 18 April, Manning Gottlieb OMD, Talon and Clear Channel have produced a campaign using "electroluminescence". The digital six-sheets bring the villain Electro, played by Jamie Foxx, to life with dynamic bolts of lightning as part of a £1 million outdoor advertising push.
Record nods for Channel 4
After a tough year for audiences, Channel 4 will feel rightly pleased with its 27 Bafta Television Award nominations. It's a record haul for the broadcaster and more than any other single channel has received this year. The nominations span a range of genres, led by the drama Southcliffe and the comedy The IT Crowd with four each. There is also recognition for the documentaries Bedlam, Educating Yorkshire and Gogglebox. Channel 4's chief creative officer, Jay Hunt, called it a "fitting tribute to the creativity and innovation" at the broadcaster.
Vine's move into private videos
Twitter has developed its video-sharing platform Vine, which it bought in 2012, to allow users to send private clips to friends even if they are not signed up to the service. OK, so this one has porn written all over it, but there must be commercial opportunities too. Called Vine Messages, the service is said to recognise the "growing desire and need for private messaging" in our digitally connected world. It competes directly with Bebo's Blab offering, as well as WhatsApp, Snapchat and Facebook.
And one thing we don't…
Growing unrest over Miller
Maria Miller's tenure as the Culture Secretary has always been a fractious one. The former Grey advertising executive presided over attempts to have Parliament regulate the press post-Leveson and went on to demonstrate exactly why such a system will place democracy at risk. Attempts to stop the Telegraph investigating her expenses were nothing short of a disgraceful power play, and her ensuing mealy mouthed apology adds further insult.