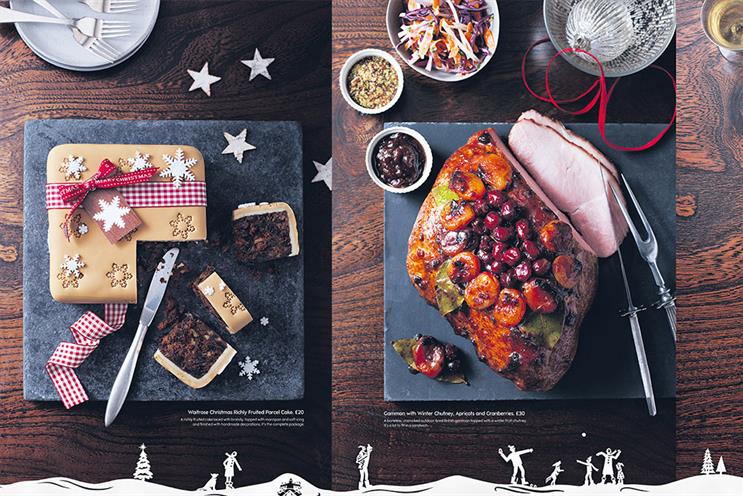 Sunday Times' Waitrose ad
What's bigger and has more impact than a broadsheet print ad delivered in your favourite Sunday newspaper? Why, an ad running over eight pages, of course. The Sunday Times became the latest publisher to trial the new super-panoramic format this week, with a fold-out eight-page Waitrose ad.
Nick Milligan golf day raising £35,000
Enter's Nick Hurrell and Group M's Nick Theakstone visited Child Bereavement UK to present a cheque for £35,000 last Friday. Alongside City AM's Lawson Muncaster and Sky Media's Richard Hawking, the duo helped raise the money by organising The Nicko Milligan Golf Day in May in memory of the late managing director of Sky Media. Milligan died tragically last year with his daughter Emily in a speedboat accident. The Nicko Milligan Golf Day is now set to become an annual event.
Radio's awards recognition
More good news for radio, as the Radio Advertising Bureau picked up an award for its effectiveness study at the Media Research Group Awards in Berlin last week. The RAB received the industry accolade after fending off competition from Thinkbox, Outdoor Media Centre and Newsworks. Unveiled in October last year, Radio: The ROI Multiplier used the first-ever cross-agency data to reveal that brands using the medium get nearly eight times the ROI.
And one thing we don't…
Death throes of local press
Things are not getting any easier for those working in the local press. Trinity Mirror has revealed that a number of newspapers in the south will shut down. So it's goodbye to titles including the Harrow Observer, the Reading Post, the Surrey Herald, the Surrey Times and the Woking Informer, which are to close next month. About 50 jobs will go as Trinity Mirror continues to move from print to new digital operations. Martin Shipton, the chair of the Trinity Mirror National Union of Journalists group chapel, called it a "watershed moment".