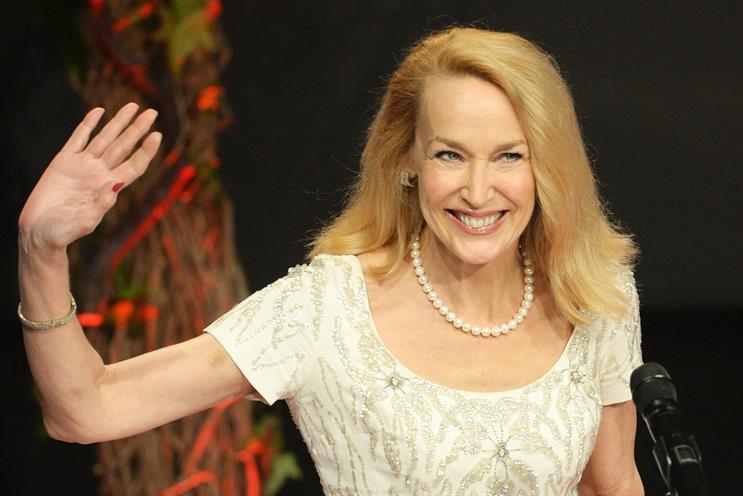 Austin rocks
Arctic Monkeys led the celebrations with five NME Awards last week, but it was a big night too for the left-field sponsor Austin, Texas. Lily Allen could not hide her bemusement when she picked up an award, but with SXSW in the offing, the US state continues to put itself on the map with the in-crowd. Jerry Hall (pictured), also at the awards, has been unveiled as the face of British Airways' Austin service – another boost to the Lone Star State.
News brands bigger than ever
When it comes to the press, we're used to talk of strained business models, but the National Readership Survey provided a timely counter-balance this week. Reporting combined digital and print figures, many news brands recorded significant year-on-year growth, resulting in generational readership highs. Topping the poll in the UK was the Daily Mail (19.8 million readers), while The Guardian (12.3 million) and The Daily Telegraph (11.6 million) took third and fourth place. The Sun (15.3 million) came second, despite its online paywall.
Goodbye Daybreak
After some three-and-a-half years, you can't say ITV didn't try to make Daybreak shine. However, despite audiences lifting from the initial slumps of 500,000 to around one million, the format never settled. The broadcaster will be hoping for a fresh start when it launches a more news-led format, Good Morning Britain, after Easter. Some things don't change, though, and ITV has again raided the BBC for one of the show's presenters – Susanna Reid (pictured).
And one thing we don't…
Paddy Power trying to cash in on the Pistorius trial
Paddy Power has made good mileage out of being the cheeky, irreverent brand with a big personality but, over at Campaign Towers, we can't help but think the bookmaker has overstepped the line between fun and bad taste with its attempts to piggyback on the Oscar Pistorius murder trial. The offer of the gambling company to refund any losing bets if Pistorius is acquitted of murder in South Africa and walks free from court is just the opening salvo in what promises to be a truly saddening media circus.