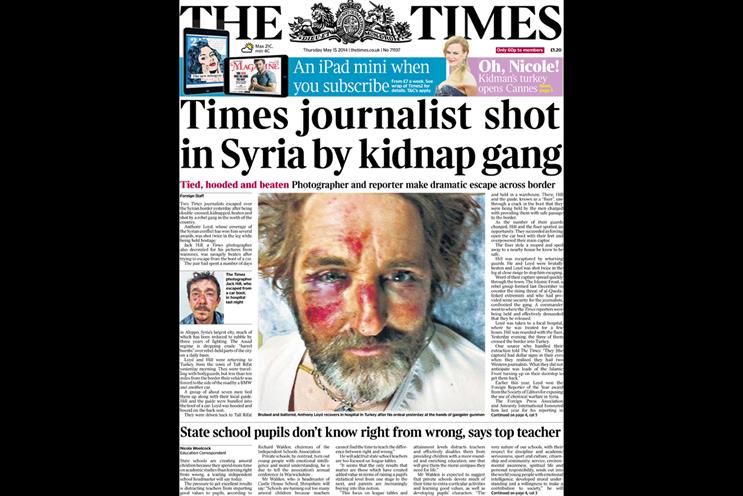 Anyone watching Homeland on Channel 4 last Sunday would have noticed a poignant ad break takeover from News UK. The second break of the US political thriller showed a three-minute spot documenting the kidnapping and escape of two Times journalists in Syria earlier this year. Part of "the unquiet film series", it highlighted the real-life stories behind war reporting at The Times and The Sunday Times. And we won't dwell on the punctuational error in the ad.
You are what you read
Readers of The Times like tarte au citron, baklava and pomme Lyonnaise, while Guardian readers prefer antipasti, aubergine parmigiana and braised endive – at least according to a YouGov app launched last week. The Profiler tool, based on data from 190,000 UK YouGov members, unveiled plenty of food for thought. Regulars to Paul Dacre's Daily Mail, for example, enjoy cheese-and-tomato sandwiches, lobster and sweet-and-sour prawns. Over at the Daily Mirror, chips, curry sauce, ham and eggs are the hot tickets, while Sun fans prefer pork chops and chips.
Peter Jackson turning to print
Peter Jackson, the director of The Lord Of The Rings and The Hobbit series, is the latest guest editor at Bauer Media. Jackson (pictured, left) oversaw the January edition of the movie bible Empire, on newsstands this week, which previews the final Hobbit film, The Battle Of The Five Armies. The director said the movies set in Middle-earth had been an "unforgettable journey" and noted: "Empire likes movies and, for that reason, I have always liked Empire."
And one thing we don't…
Revolving-door politics
Things can get heated in the run-up to a general election. Not too long ago in 2001, the deputy prime minister punched somebody in the face. The incident was caught on camera and somewhat overshadowed the launch of Labour's campaign that week. Words were had, but John Prescott lived to defend himself for another day. So what to make of Emily Thornberry's "forced resignation" last week, after a Tweet in Rochester? Ill-conceived, yes. But a sackable, career-ending outburst? We should not be so quick to change someone's life.