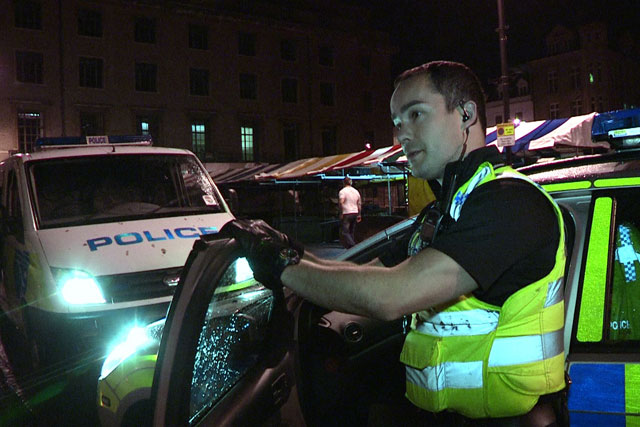 Cop Squad

Cops With Cameras, Brit Cops and now Cop Squad. Reality shows following the boys in blue are hardly a new format, but it's tried and tested and we can't get enough of them. Sky1's Cop Squad, broadcast at 9pm on Monday evenings, is a lively variation that follows the Cambridgeshire Constabulary as it breaks up fights, locks up wrong'uns and mops up after the unfortunate. It's hardly mind-expanding but is another welcome commission and hopefully evidence that Sky1 will stick to doing what it does best, rather than trialling expensive UK dramas. Plus, who knew that Cambridgeshire was quite so rough?

Gutterbarometer

In preparation for the Cannes Lions next week, Dare and Creative Social have brought back the Gutterbarometer (gutterbarometer.com), which has been updated this year to include the Carlton Terrace and the Cannt bar in London. The Gutterbarometer tracks your GPS co-ordinates and gives you points as you spend time at any of the locations. Useful for competing against your peers (or finding errant staff using the Google View map - although people can choose to switch this off if they want to stay underground), sign into the app using Twitter. Pointless, maybe, but also fun.
John Hegarty's new book
In case you've been living in a cave in Tora Bora or a compound in Abbottabad for the past few weeks, Sir John Hegarty has written a book called Hegarty On Advertising, published by Thames & Hudson.
And it's really rather good - knowledgeable, opinionated, easy to read and intelligible to even people who don't think they know about "creativity". And as those of us who were lucky enough to go along to the official launch last week, we can confirm that it does indeed have 84 colour illustrations, as Sir John pointed out.
AND ONE THING WE DON'T ...
Oliver Holt
After writing a column criticising Rio Ferdinand, the Daily Mirror's Oliver Holt published an (abusive) private direct message sent to him on Twitter by the Manchester United defender, and then used it as the basis for a follow-up column to further stick the knife into him. It's obviously ridiculous that Ferdinand should be so angered by the views of Holt in the first place, and sending him a message was childish. But by publishing what should be a private note, Holt proved that he too was incapable of taking the higher ground. Even more deplorably, he then used it gleefully as the headline piece of his column. And when you consider the issues facing football at the moment - not least the allegedly corrupt nature of its governing body - it's a shame the Daily Mirror's columnist preferred to make himself the story instead.