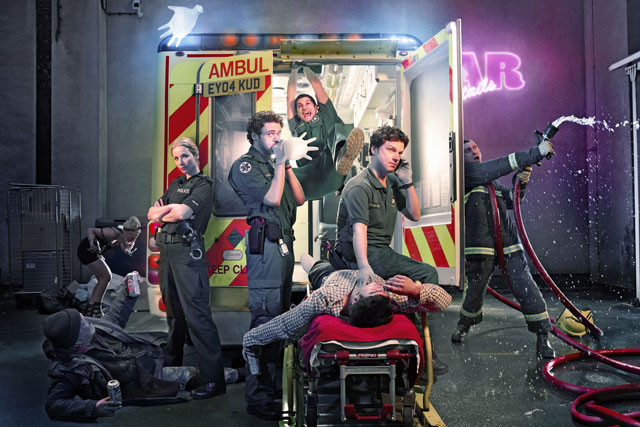 Sirens

We may have already seen countless hospital-based shows hit our screens over the past few years, but the first episode of Sirens has done enough to make sure we'll be tuning in again.Don't be fooled by the way Channel 4 has marketed the programme as a mindless, out-and-out comedy. Sirens is more of a drama, with dark (and frequently risque) humour thrown in for good measure. The first episode alone covered everything from suicide, racism, gay sex, depression and a man with his penis in a sieve. And, while not every joke truly hit the mark, the strength of the performances turned in by the main three characters were enough to keep our attention, and make us want to see how the storyline develops over the series. The launch episode attracted 1.8 million viewers - impressive for the timeslot.
Ocean Outdoor
Ocean Outdoor has made the most of the positioning of its new digital outdoor site next to the location of the former "Madchester" nightclub, The Hacienda, by persuading the electronics manufacturer Philips to run its ad with the Beady Eye and former Oasis front man Liam Gallagher on the billboard. It's a perfect example of fitting a creative to the location. Tim Bleakley, the chief executive of Ocean Outdoor, proudly said: "Liam Gallagher, The Hacienda, Manchester. That's where it all began, right?" The portrait site is next to the Axis Tower development on one of the key junctions to the city centre. Lots has been said about how the majority of the digital outdoor sites are in London, so it's good to see a media owner delivering and expanding its footprint outside the capital.
Comedy Central
Having diversified with the launch of a DVD arm in 2010, Comedy Central is shooting the third of its range of live comedy DVDs, this time featuring the stand-up comic Rufus Hound. The move helps cement the channel's position as the market leader for UK and US comedy, featuring shows such as 30 Rock, The Office and South Park. It will also provide a rather nice revenue stream. The comedy show, Being Rude, will be available in time for Christmas and follows a fine heritage, its predecessors being Stewart Lee's If You Prefer A Milder Comedian Please Ask For One, and Jim Jefferies' Alcoholocaust.
AND ONE THING WE DON'T ...
Johann Hari
There's always been something slightly irritating about The Independent's dough-faced columnist, and his sixth-form debating society views, but he appears to be pushing his luck even further now. Hari has been caught out cutting and pasting quotes obtained by different journalists on other occasions into interviews that he has conducted with people, as if they were told to him. That's a bit naughty, really.