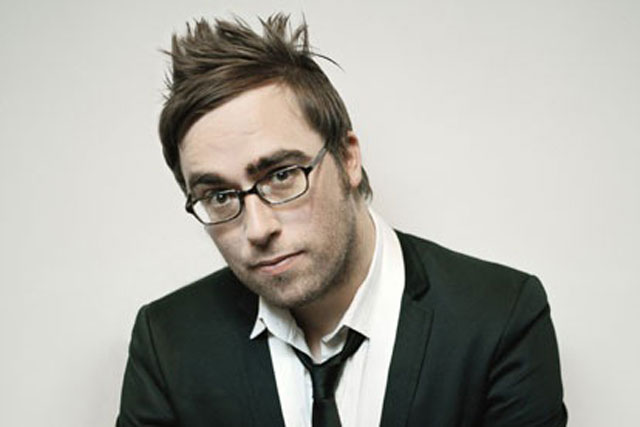 - Danny Wallace on Xfm

We've got a bit of a love/hate relationship with Xfm, which, despite everything, has just about managed to cling on to some of the indie heritage that made it so distinctive.The station has got through breakfast show hosts faster than a dose of salts (remember Alex Zane's mysterious departure?), and the brilliant Dave Berry has become the most recent DJ to leave via the revolving door to take up a job at its sister station Capital. The latest host to take the chair is the drily amusing Danny Wallace who, we hope, will last a bit longer and make the show his own.
- GQ/The Inbetweeners
Although the film, which is expected to mark the end of The Inbetweeners series, doesn't open until 18 August, the anticipation is building. This is likely to lead to a rash of articles talking about the cultural significance of the series, and GQ is admirably quick off the mark with an intelligent and comprehensive reflection of its contribution to British comedy in its August edition.
- Walker Media/House Festival
It's time to don your linen suits. Today (Thursday) is the annual House Festival that also doubles up as Walker Media's annual summer party. It's a suitably civilised affair, with the money raised going to the restoration of Chiswick House and Gardens, and the anti-poverty charity The Circle. As well as the opportunity to listen to bands, including Noah and the Whale and Stereophonics, and eat fine food from the numerous food stalls, it's always interesting to see how many BBC executives have managed to bunk off on a Thursday afternoon to tuck into the corporate hospitality.
- Vic and Bob on Foster's Funny
We enjoyed the Alan Partridge "Morning Matters" series on fostersfunny.co.uk, and now the beer brand and its agency, Hypernaked, has introduced its latest comedy content in the shape of a weekly sketch from Vic Reeves and Bob Mortimer. The first, "The Free Runners", is a spoof of urban culture and the parkour craze. It features the comedians with their shirts and ties tucked into their underpants jumping around their area. It's quirky, rather than laugh-out-loud funny, but we're looking forward to regular doses of Vic and Bob.
AND ONE THING WE DON'T ...
- Newspaper closures in Notts
The more flat-vowelled among us grew up with the Recorder local newspaper titles in Nottinghamshire, so it is with heavy heart that we report that Northcliffe Media is to close the three remaining Recorder titles. In the old days, advertisers could choose between several local titles, but the latest closures mean that the Nottingham and Long Eaton Topper is the only remaining free newspaper in Nottingham. A sad moment for regional media in the East Midlands.