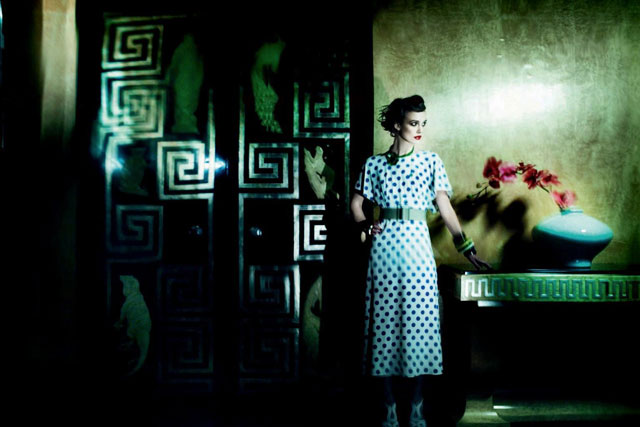 We always look forward to the September issue in women's magazine land - and the fat wodge of gloss that is Vogue. The mark of a good women's mag is that the editor has stuck around for a decade or so (there have been ten editors in 95 years of British Vogue), and Vogue continues to sit effortlessly above the rest of the fashion mag pack, creating works of art for its shoots courtesy of inspired stylists and contributors. A case in point is this month's take on the recent catwalk obsession for fetish chic (zips, feather and leather to you), which has arrived on Vogue's pages as the story of a 17th-century Flanders maiden, shot in Antwerp by Mario Testino. Only in the pages of Vogue.
The Big Brother house
Today (18 August) marks the return of Big Brother, albeit at its new home on Channel 5. After being treated to a sneak preview of the house ahead of the arrival of its "celebrity" housemates, Campaign was particularly impressed by the renovations that will perhaps make the series required viewing. With high-definition wallpaper, a luxurious bedroom, heated swimming pool and double-headed shower (we can't think why?), the house looks a vast improvement on the tired accommodation of previous years. The former housemate and new host, Brian Dowling, declared: "It's not a social experiment any more, it's a primetime entertainment show." Now, let's see if this translates into ratings success - but full marks to Channel 5 for trying.
Maid in Leith
What do you do when you've gained years of experience working on big beer brands, but then find yourself without one on your books? Well, Leith used its knowledge of Carling, Sol and Grolsch and decided to launch its very own craft beer. Maid in Leith, produced in association with the Scottish brewery Williams Brothers, is described as "a golden ale with a crisp, dry flavour and a sweet, hoppy aroma". Profits from the sale of the beer go to the Water of Leith Conservation Trust, which is responsible for cleaning up the river that runs through Edinburgh, and on which Leith's offices are based.
AND ONE THING WE DON'T ...
TV reducing life expectancy
While the riots proved an unpleasant distraction, it didn't take long for newspapers to revert to the summer silly season. Credulous hacks from virtually all newspapers - including those who really should know better - dutifully regurgitated some rot claiming that every hour spent watching TV reduces life expectancy by 22 minutes. In fact, we were told, it's "as bad as smoking". Quite how they came up with this figure is not revealed (or questioned), but it's down to inactivity, apparently. So it's just not TV that's to blame, but a sedentary lifestyle. We all knew that, but it just doesn't make such an eye-grabbing story.