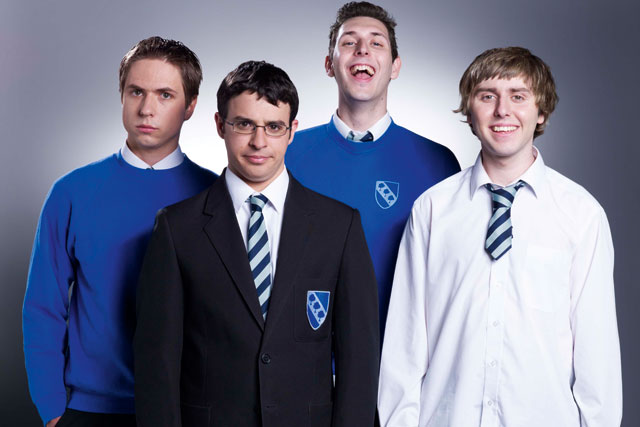 Vodafone at Reading Festival

Vodafone has been working hard over the past few years to build its association with music, so it's been good to see it garner some success over the festival season with its "Vodafone VIP" offering. The company has constructed viewing galleries for Vodafone customers, solving one of the biggest problems facing the festival-goer: being stuck two miles from the stage with a view that is little more than the back of people's heads. The gallery was in full force again at Reading Festival over the bank holiday weekend, giving fans a perfect view of performances from Muse, The Strokes, Pulp and My Chemical Romance (although whether or not the last one is a good thing may be up for some debate).
The Inbetweeners Movie
OK, we know that this has been open for a fortnight, but the film version of Channel 4's brilliant The Inbetweeners comedy is just as good - if not better - than the series itself and is surely worthy of inclusion. It's not often that a British TV series translates successfully to the big screen (the last good one we could think of was Dad's Army in 1971) but the show's writers and its backer, Film4, have done this magnificently. As well as showing that British comedy is best, the film, which took £13.2 million at the box office in its opening weekend, also provides revenue back to Channel 4. And if you haven't seen it, you don't know what you are missing.
Fiat ads in Metro
Ever find your daily commute read is lacking in a bit of ad interactivity? Step forward Fiat and Metro, which teamed up to create the newspaper's first scratch and reveal coverwrap last week. The freesheet featured the Fiat 500 TwinAir campaign on its cover on 25 August, arousing the curiosity of even the most caffeine-deprived morning travellers. As part of its ongoing campaign, readers will be invited to submit ideas for fitting fun into a busy lifestyle, and the best will be featured in further weekly online and in-paper ads, and be in with a chance of winning one of 40 prizes. The ads, which run until 23 September, were created by Krow Communications and Yuki Media, and brokered by the media agency Maxus.
And one thing we don't ...
Brown Lloyd James and Colonel Gadaffi
What do Telegraph Media Group, Associated Newspapers, Barb and, erm, Colonel Gaddafi have in common? Well, they are all represented by the PR and reputation management specialist Brown Lloyd James. According to the Financial Times, BLJ was hired by the ruling families of Libya and Syria to improve their reputation Stateside. The company, founded by the former News of the World and Daily Express editor Sir Nicholas Lloyd, and the former Beatles manager Peter Brown, defended its involvement, with Brown quoted as saying: "I'd love to take on Iran as a client."