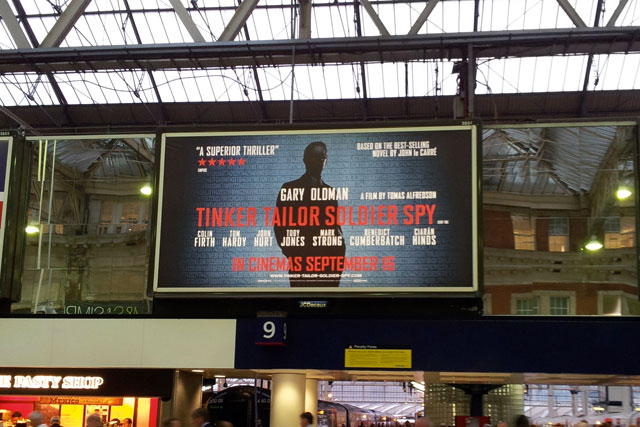 PJ Harvey's Let England Shake

The Dorset-born singer-songwriter did the double last week by winning the Barclaycard-sponsored Mercury Prize with her album Let England Shake, something she also achieved in 2001 with her rock-oriented album Stories From The City, Stories From The Sea. For once, the bookies and the critics agreed and the award wasn't given to an obscure Peruvian nose-flute ensemble, or a trip-hop act not heard of outside the Hoxton Bar and Grill. The album was partially inspired by Harvey's reaction to the Iraq and Afghanistan wars, and she made reference to the fact that she received the previous award on 11 September 2001. It's nice to see a talented musician not only take on the male-dominated music industry, but also steer clear of vacuous pop and make something she described as "meaningful" and that "would last". We think it will.
Brutal Simplicity Of Thought
Maurice Saatchi has penned the foreword to what originally started life as a training manual for Saatchi & Saatchi employees that was designed to demonstrate the philosophy of the company through its iterations over the past 40 years. The book celebrates the moments when the "brutal simplicity of thought" ruled the world, such as the creation of the ice-cream cone that effectively made a plate "edible" or the three words that drove the French Revolution. The work is now being published and there is an accompanying display at the Victoria and Albert Museum. The event runs next week and will bring together these and other simple concepts that have changed the world.
Tinker, Tailor, Soldier, Spy
John le Carre's Cold War classic Tinker, Tailor, Soldier, Spy, which is released on Friday (16 September), is tipped to be the second-biggest Brit film of the year (after The Inbetweeners Movie) and stars Gary Oldman, Colin Firth and Benedict Cumberbatch. Target Media, which holds the StudioCanal media account, has brokered a neat supporting campaign across outdoor, TV, digital, radio and print, including an eight-page supplement in last week's Observer. Media also ran in London Underground stations and in the ad breaks of the Rugby World Cup, the Champions League and the ITV drama An Appropriate Adult. Creative is through agencies including Empire Designs and Ego Communications. It should be a hit.
AND ONE THING WE DON'T ...
The closure of Darts Monthly
Just four months after the relaunch of We Love Darts as Darts Monthly, the sad news reaches us that the plug has been pulled on the Bath-based title after less than three years of publishing. Even more tragically for those involved, there's little point phoning in to commiserate - or ask about your subscription - as, according to a message on the magazine's website, all the staff on the Faragher Jones title have been made redundant immediately. They, and fans of the sport of kings, deserve better.