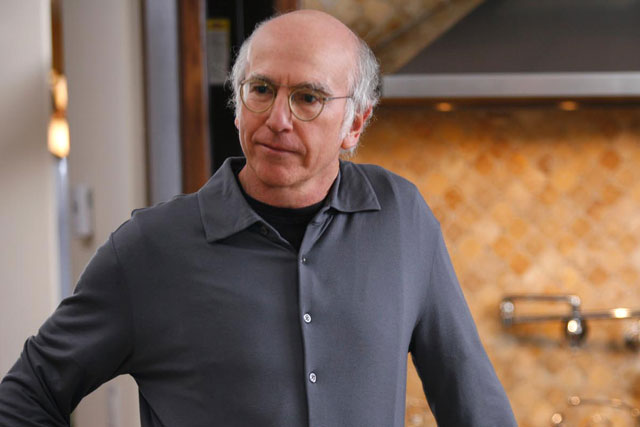 The reurn of Curb Your Enthusiasm
It seems a bit odd that Channel 4 has decided to broadcast series eight of the Larry David comedy masterpiece near the witching hour on Sundays and on More 4. Perhaps this is why so few people seem to know it's back. Still, we're pleased to report that, despite its relative longevity, the format shows little sign of tiring. It's also reminded us that More 4, traditionally the home of ancient repeats of Location, Location, Location, does occasionally show a few gems.
Alan Partridge on Twitter
While we haven't had a chance to enjoy Alan Partridge's new book - I, Partridge - his appearance on Twitter provides us with a fix that has been missing for too long (Foster's Funny notwithstanding). Here's an example of Partridge's invaluable insight, from his appearance on The Jonathan Ross Show on ITV last Saturday: "It seems homosexual musicians Four Gays At The Piano are no longer welcome on the show. Why? Ask ITV." Back of the net.
Karen Murphy, the Portsmouth pub landlady
Congratulations to Karen Murphy, who has potentially opened the door for UK football fans to watch Premier League matches at cheaper prices. While Murphy, the landlady of the Red, White & Blue pub, was unsuccessful in getting the European Court of Justice to agree to allow pubs to use foreign decoders, its ruling does mean that there could be a shake-up for the Premier League and its exclusive deal with BSkyB and ESPN. Cheaper television has got to be a good thing.
Mail Online cock-up
At the risk of tempting fate, it was difficult not to suppress a sharp intake of breath (followed by a snigger) after the Mail Online inadvertently published a news story that mistakenly claimed that Amanda Knox had lost her appeal. Full of pre-prepared quotes and emotion that purported to come directly from the court and the apparently "tearful" Knox, the news story only briefly appeared on the website - but long enough to be embarrassing. Sky News, The Guardian and The Sun also made mistakes, showing the dangers of rushing to get news first. Red faces all round, but at least it wasn't as bad as one of the questions on Channel 5's The Wright Stuff: "Foxy Knoxy: Would Ya?" Beyond awful.
AND ONE THING WE DON'T ...
Tabloid scrutiny of the England rugby team
All of a sudden, the England rugby team is under the sort of unnecessary media scrutiny that is usually left to their football-playing counterparts. The Sun, The Daily Mirror and the Daily Mail in particular appear to be praying that the players slip up, whether that be on or off the pitch. The vendetta is getting a bit boring. Why won't the media just leave them alone to (hopefully) bring home the Webb Ellis trophy?