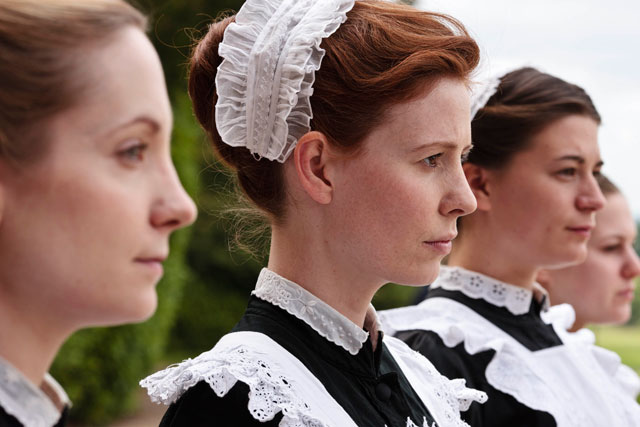 Downton Abbey being commisioned for a third series
Sundays, at least until Christmas, won't be the same. The conclusion of the second series of ITV's hit upper-class soap left us with so many loose ends that need tying up. While few will mourn the passing of Lavinia Swire as much as the ashen-faced Matthew Crawley, the fact that he and Lady Mary have still to get it together after coming so close means that anticipation for the Christmas special is high. Let's just hope that she doesn't end up marrying the sinister nouveau riche publishing magnate, Sir Richard Carlisle, beforehand. And what about Bates and Anna? So many questions that still need answering - we're hooked on Downton Abbey and delighted that ITV has commissioned a third series of the Julian Fellowes-created Edwardian confection.
ITV's Breast Cancer Campaign stunt
Evidence of ITV's commitment to work in a more long-term, partnership-based manner with key advertisers was evident to Londoners. The broadcaster recently hung a world record-sized bra (verified by Guinness World Records) on the London Television Centre tower by a team of abseilers. This stunt, tying in with a Vanish advertising and PR campaign, was created to raise awareness of Breast Cancer Campaign. The pink bra, which was hung from the river-facing side of the building and covered the 22nd to 14th floors, was visible from some distance.
Dave's comedy club award on Absolute Radio
This week, the UKTV-owned channel Dave kicked off a promotional campaign on Absolute Radio for its new comedy club award that neatly reinforces its comedy credentials. The award, called Dave's One Night Stand, is open to all 95 clubs involved in the channel's two-for-one comedy tickets scheme - an initiative that launched earlier this year. Listeners and viewers can vote via an app on Dave's Facebook page and via text, and are incentivised with prizes such as a home entertainment system and tickets to Dave's Leicester Comedy Festival in February 2012.
AND ONE THING WE DON'T ...
Fifa's ban on England players wearing poppies
Given Fifa's far-from-unblemished track record and dubious reputation for probity, we find its unwavering commitment to uphold the rule that no kit can contain "political, religious or commercial messages" frankly baffling - not least because the poppy is none of these things. Some credit should go to the FA and the England players - both of which are also not without smears of their respective characters - for pushing to get permission to wear them in the game against Spain on Saturday, the eve of Remembrance Day. We think the players should just walk on to the field wearing them anyway.