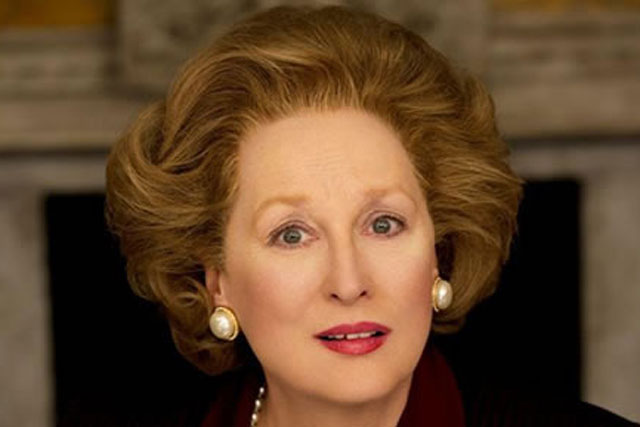 The Radio Advertising Bureau's Britain Loves Radio campaign
Today (Thursday), the Radio Advertising Bureau launches an umbrella ad campaign under the theme Britain Loves Radio to promote the power of the medium. As well as showcasing great creative and key events in commercial radio, such as the Jingle Bell Ball, the three-month campaign positions radio as an essential choice for marketers. Given that Thinkbox has long stolen a march on all of the other trade bodies, it's good to see the RAB finally doing something proactive with this Radioville-created campaign.
The Iron Lady
The teaser for Pathe's The Iron Lady has been released and, we have to say, it looks rather good. Predictably, given the subject matter, it has already proved controversial, but the fact that Meryl Streep, in the role of Margaret Thatcher, manages to pull off what we thought would be impossible for a US actress in accurately catching the character is a feat in itself. We can't wait to see what looks - at first glance - to be an interesting dramatisation of one of Britain's most powerful prime ministers in a crucial part of its post-war history and her subsequent inevitable decline. The stellar cast includes Jim Broadbent as Sir Denis Thatcher, while Richard E Grant makes an unlikely Michael Heseltine.
30 Rock
In case you missed it - and, for some reason, Comedy Central appears not to have done much to promote it - series five of the brilliant Tina Fey comedy 30 Rock is now airing on the channel. It was a shame that Channel 5 lost the terrestrial rights to the show, which stars Fey as the highly strung head writer of the live sketch-comedy spoof The Girlie Show, as it disappeared from a wider audience. Despite being in its fifth series and reports that Alec Baldwin was going to quit his role as the NBC network executive Jack Donaghy, the acting, writing and humour remain as sharp and incisive as ever, with the dysfunctional cast and crew of the fictional comedy lurching from one absurd drama to another.
AND ONE THING WE DON'T ...
BT's transmission cock-up for ITV
ITV has been more than a little unlucky with technical glitches interrupting key programming, but the power surge at the BT Tower that delayed The X Factor brought howls of disgust to social media sites with accompanying conspiracy theories. For 15 minutes, viewers were forced to watch previously broadcast audition tapes instead of the live show while BT sorted out the problem. Having seen some of the acts that have managed to get through to the final rounds, we're surprised that anyone noticed the difference. And at least it's not as bad as the FA Cup and World Cup cock-ups, when crucial goals were missed.