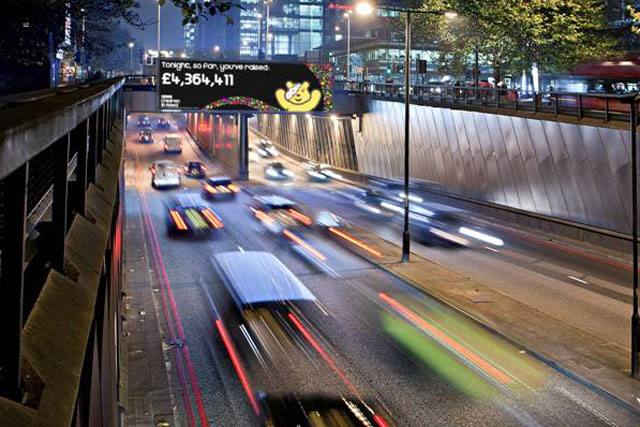 Viz's 2012 poster calendar
While publishers normally do something special for their December issues, Dennis Publishing has pulled out all the stops for its end-of-year edition of Viz. As well as Christmas-themed twists on all the comic's favourite strips, the magazine comes with a 2012 classic movies calendar. Characters including Millie Tant, Sid the Sexist and Billy the Fish cleverly - if not tastefully - feature in pastiches of retro posters of films of old. While not quite as worthy as the Countryfile calendar, which seems to get a ten-minute plug in the programme every week, it's certainly far funnier.
The Real George Osborne
A vote on regulation of food speculation by banks in the European Union may not sound like the easiest subject to create a fun campaign out of, so credit must go to Hoot Comedy for devising just that. Working for the World Development Movement, which wants to persuade George Osborne to back effective regulation as speculation on food prices drives food costs higher and creates poverty in developing countries, Hoot has created a 14-part web series called The Real George Osborne. Shot in the style of a documentary, the episodes carry a serious message, but they're engaging, brilliantly acted and - best of all - very, very funny.
Outdoor Plus
We're clearly in charitable mood. Following the success of its association with The Royal British Legion's Poppy Appeal, Outdoor Plus made a similar affiliation with last week's annual Children in Need tin-rattler. While the associated televised BBC celebrity back-slapping leaves some of us rather cold and meant that we were watching other channels, the largesse of the cash-strapped public was revealed with a running total on four digital screens in Central London locations.
Flipboard update
Our favourite iPad app is now even more shiny following a welcome update that allows users to create their own Flipboard account, enabling them to synchronise content across devices, plus content from Tumblr and the HD pic-sharing service 500px. The personalised digital magazine is also poised to launch an iPhone version so looks well set to fight off competition from the likes of AOL, which has launched the similar - but, to our mind, inferior - AOL Editions.
AND ONE THING WE DON'T ...
Harold Bishop on I'm A Celebrity ... Get Me Out Of Here!
We weren't going to watch this series of I'm A Celebrity ..., really we weren't. But given the lack of anything else on, we did and, irritatingly, found it sort of enjoyable. And then ITV goes and brings in the actor behind one of the best-loved characters from our youth, Harold Bishop, in some sort of contrived jungle game-show role. It's not how we like to remember him - he'll always be "Jelly Belly", the cake-loving, pinny-wearing hen-pecked man behind the counter at Daphne's.