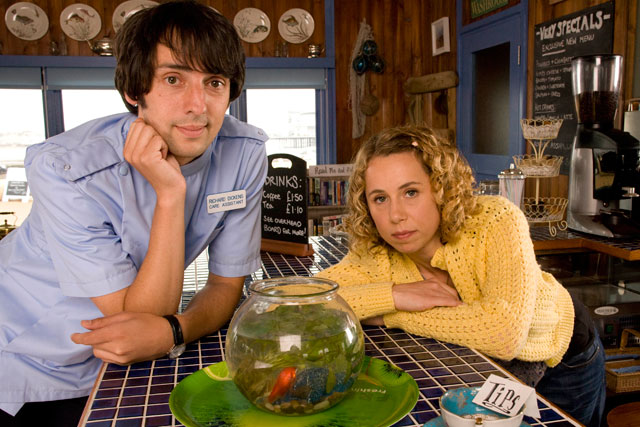 The Cafe
Sky1 deserves plaudits for investing in an autumn season of original comedy. Our favourite to date is The Cafe, a gentle sitcom co-written by, and starring, Ralf Little and Michelle Terry, and directed by Little's former colleague from The Royle Family Craig Cash. It's a well-observed portrayal of life in the seaside town of Weston-super-Mare and combines solid observational comedy with well-drawn characters who encapsulate the frustrations of living and working in an English seaside resort. Some of the characters may appear initially as cliches (the thick hairdresser, the flash local boy who has moved to London and drives a Porsche) but soon become sympathetic and multi-dimensional.
Richard Desmond's commitment to print
Having invested £100 million in his new full-colour print works in Luton, the Northern & Shell chairman has shown that he has faith in his print products. Indeed, at the launch event, Desmond said that the new plant demonstrated the company's commitment to print products for the next 25 years and beyond. Given how naysayers tend to dominate this particular conversation, we're delighted to hear someone stand up for printed newspapers and magazines.
The launch of Nokia Lumia
As live events go, the launch of the Nokia Lumia 800 smartphone was pretty special. Millbank Tower acted as the canvas for a light show with each of the 120-metre-high building's 800 windows covered with vinyl as 16 projectors on the other side of the Thames beamed images on to the structure. Among other images, huge butterflies were projected on the tower, giving the overall effect that the building was spinning around. The free show was accompanied by music from the producer Deadmau5 and the event was broadcast live online on Nokia's Facebook page. If you don't believe just how good it was, check it out. It also made a change from students smashing the tower's windows in.
AND ONE THING WE DON'T ...
The Secret Millionaire
We're finding it increasingly implausible that any of the charities that suddenly find themselves in the presence of an "anonymous" man with an accompanying camera crew don't guess that they are being set up for Channel 4's The Secret Millionaire. It's stretching credibility - we know they are meant to be poor, but surely they are aware of the now long-running TV series. And while we're all for a bit of benefaction, Charles Allen's sackcloth-and-ashes appearance on last week's episode in Leeds was particularly bold. "Charlie Adams", as his pseudonym went, must be a familiar figure in the city, especially among the destitute, having been responsible for getting rid of around 4,000 ITV employees in Leeds while he was the chief executive of the company.