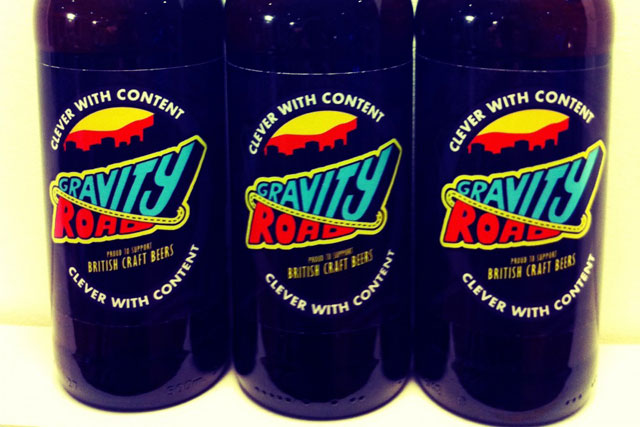 Gravity Road ale
We know we've gone on about it before, but there are not many things quite as heartwarming, both physically and metaphorically, as authentic craft ale. Aside from representing part of a welcome wider cultural shift away from mass-produced impersonal brands and towards values that are more honest and local, it just tastes better. The new independent agency Gravity Road clearly agrees with us and has created its own limited-edition pale ale in association with the independent Ilkley Brewery, thereby demonstrating how it fulfils these criteria. It goes down particularly well with toad in the hole.
Aldi ad placement
Hats off to Universal McCann Manchester, which has done a fine job scheduling the new Aldi ad - promoting its cheap cereal - in breaks next to a rather more lavish spot for Kellogg's Special K. While competitive scheduling is nothing new, this example is particularly striking, as the Aldi commercial, created by McCann Manchester, shows an oversized Irishman promoting the own-brand cereal while squeezed into a tight-fitting red dress. Simple and witty.
Milton Jones's House Of Rooms
He has taken a while to really make it, but Milton Jones - the guy with the unkempt hair and Hawaiian shirts who sometimes turns up on Mock The Week - finally seems to be getting the recognition his sharp wit deserves. Channel 4 is the latest broadcaster to harness Jones' talent, last week airing the pilot of his new sitcom, Milton Jones's House Of Rooms, as part of its Comedy Showcase series. The plot is smart, the characters are loveable and the script is littered with Jones' trademark one-liners that have made his stand-up act become such a hit. It would be a shame if this wasn't turned into a full-on series, and could acquire a similar cult following to the one that helped make Father Ted such a success.
AND ONE THING WE DON'T ...
Tim Lovejoy returning to Xfm
Xfm is still one of the best indie commercial radio stations out there and, despite being subsumed into the Global Radio empire, it retains its distinctiveness, thus making it the only real competitor to the BBC's 6 Music. So we salute the station as it celebrates its 20th anniversary since launching in North London. To mark this milestone, Xfm is drafting in some of its old presenters to do shows - nice idea, but imagine our disappointment when we found out that Tim Lovejoy, he of the shortlived Giovanni Rana pasta ads, was taking over the Sunday lunchtime shift? Instead of the indie music and intelligent chat that we are used to, all we heard was the irritating Lovejoy talking about his celebrity mates. Now that Something For The Weekend has been canned, please don't ask him back full-time.