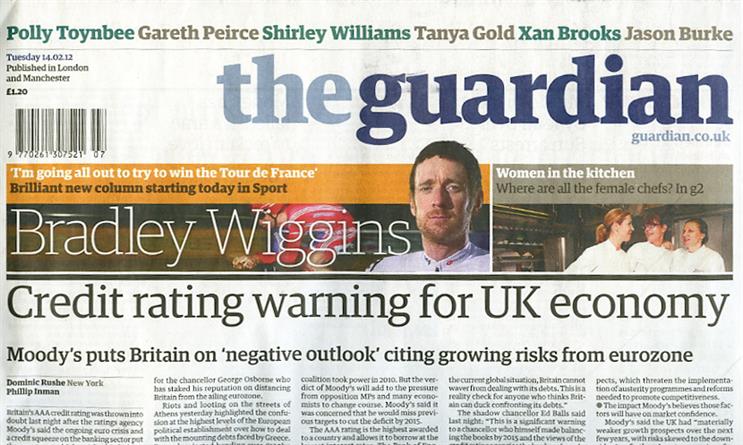 but we're unimpressed with advertiser Mitsubishi announcing its media review via Twitter.
Media journalists ran with headlines that The Independent's spin-off paper i had overtaken the circulation of The Guardian by 13,568 in January. We're bigging up the Guardian News & Media spokesperson who said: "Comparing The Guardian with i is hugely misleading. Our newspaper is a quality title with a coverprice of £1.20 - a different audience to i." Hear, hear. Said spokesperson also pointed out that i had been promoting itself with bulk copies, which The Guardian does not do.
Zeebox on the iPad
With its new click-to-buy feature that allows viewers to purchase products they see advertised on TV, we are realising how easy it could be to spend a lot of money on a Saturday night in watching Take Me Out and glugging Chardonnay. It was impressive enough that the dual-screen app combined social networking, live programme information and real-time viewing figures of Zeebox punters, but this next step is what we've all been waiting for. Messrs Rose and Schmitt, we salute you.
Whitney Houston trending
The soul sister has been dominating and trending on all media following the tragic news of her untimely death, aged 48 (which broke on Twitter when the niece of Houston's hairstylist Tweeted that her aunt had found the star dead in the bath). We know she was a wreck on The X Factor but, before she lost her way, she was a pro - she wasn't the goddaughter of Aretha Franklin for nothing. How Will I Know is currently her most popular song on Spotfiy - merely a drop in the ocean of Whitney classics. Rest in peace.
Speculation surrounding the launch of the iPad3
It may be out of control, but it's getting us excited. Online reports range from the rumour that the iPad3 will be launched on 7 March in San Francisco (Apple gave the usual "we do not comment on speculation" line to this one) to details such as the model having something called a "retina screen" - we have no idea what this is, but it sounds cool. Other reports are hedging their bets on Apple creating a mini seven-inch tablet to challenge the more diminutive Kindle Fire. The truth is we won't know till the Silicon Valley geeks reveal all.
AND ONE THING WE DON'T ...
Mitsubishi announcing its media review via Twitter
Come on people, this is business. Aside from the fact that it's hugely derogatory to the incumbent, Manning Gottlieb OMD, by making it look like servicing its media business is as important as having an office cleaner, prospective agencies equally don't want to hear about new reviews this way. What's wrong with the old-fashioned way of phoning, then e-mailing an RFI? Marketing directors, this is not cool.