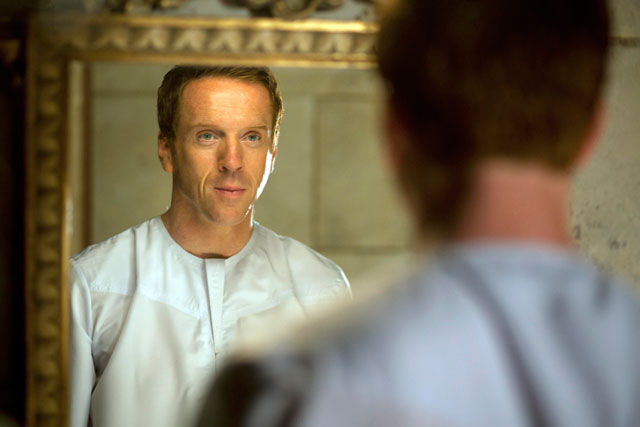 We were getting all hot under the collar this week for the augmented reality specialist Blippar's Blipp to Buy app, which had its formal launch. The app technology, which enables smartphone users to pap ads in print and outdoor to instantly buy the items displayed, has been trialled in the UK by the likes of Tesco, IPC Media and Domino's Pizza. IPC reported getting more than 200,000 Blipps via Blippar from readers of the special "interactive issue" of Nuts in January - an impressive level of engagement, which, in these uncertain publishing times, is a promising piece of news. Ambarish Mitra, the chief executive of the UK start-up, must be enjoying the attention coming Blippar's way from his mobile monetising schemes.
Channel 4's Homeland
Thanks to Channel 4 for perking up the Sunday primetime slot with this excellent new US drama. Homeland utterly lives up to the huge amount of hype that has preceded its launch in the UK. The gripping plot centres on a CIA officer (played by Claire Danes) who suspects a returning Marine prisoner of war (Damian Lewis) of having been "turned" by al-Qaeda. It makes a welcome change from the usual soporific costume drama offerings that have hijacked our Sunday evenings lately. We reckon it's the new 24.
Angry Birds roller coasters
We have to admit, when we heard that Rovio, the entertainment media company behind Angry Birds, was to launch an Angry Bird theme park in Finland (where the game was created), we started checking the availability of easyJet flights to Helsinki. But then we calmed down a bit when Harri Koponen, the executive vice-president of licensing and merchandising at Rovio, revealed that Angry Birds Land will be "the first of several Angry Bird parks around the world". That sorts half-term holidays for 2013, then. For the kids' sake, of course.
AND ONE THING WE DON'T ...
Dramatic revelations at the Leveson inquiry
Rupert Murdoch might have winced at the tsunami of allegations levelled at News International at the Leveson inquiry on Monday, just 24 hours after his Sunday launch. The evidence from Sue Akers, which saw the police officer leading the investigation into bribery and hacking at News International allege that The Sun established a "network of corrupt officials" and created a "culture of illegal payments", was followed by the claim that an internal News International e-mail dating from 2006 suggested that the then News of the World editor, Andy Coulson, and its subsequent editor Rebekah Brooks were both aware of phone-hacking at the newspaper at the time. Murdoch was keen to respond, saying: "The practices that Sue Akers described at the inquiry are of the past, and no longer exist at The Sun."