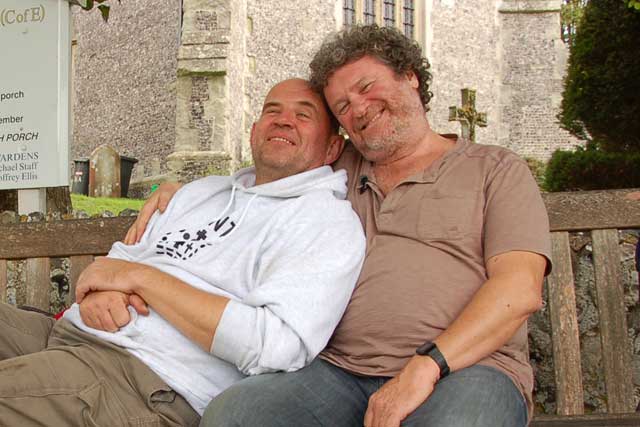 The Telegraph has produced a revamped version of its very helpful "newspaper toolkit" for media agencies, which showcases its ad opportunities to press buyers in a simple and powerful way. The toolkit is essentially a mock-up of the broadsheet, but with every ad opportunity highlighted, accompanied by a short description of each format. The mock-up is genuinely inspiring and reminds you how effective products such as wrap-arounds, bookend spaces and front-page promotions can be, as well as easily signposting its cross-media advertising solutions. As a "leave behind" for agencies following meetings with a media owner, it is one of the best.
Rory McGrath's Pub Dig on Channel 5
This is the latest welcome addition to Channel 5's increasingly entertaining schedule, and given that it combines archaeology and real ale, presented in a light-hearted format, it's on to a winner. In case you've missed it, the TV presenter Rory McGrath and the archaeologist Paul Blinkhorn explore the history of some of Britain's most historic pubs by conducting a small archaeological dig in their grounds. It's all done in a relaxed, jokey and slightly amateurish way that adds to the show's appeal.
Google's publishing efforts
When Google announced a year ago that it was launching a book-cum-magazine that it would publish every three months, called Think Quarterly, the company had to fend off reports that it was becoming a traditional media owner and was producing a consumer title. Google was quick to put the record straight, saying it was purely a marketing exercise that would benefit its UK partners. Its most recent execution of Think Quarterly, hot off the press, shows the product is far superior than any usual marketing material: it is beautifully put together, it has great content and it looks good on your coffee table. We're looking forward to the next instalment.
AND ONE THING WE DON'T ...
The fatal stabbing at a Jessie J concert
When the singer Jessie J Tweeted her best wishes to a man who had been stabbed while at her recent gig in London, we can imagine that BlackBerry was not pleased when she reminded the world that the event was sponsored by the mobile operator. "My thoughts are with the person who was seriously injured last night at the blackberry bbm party," she typed, obviously not in the vicinity of a BlackBerry PR. When it transpired that the injured man, who later died, worked for BlackBerry and must have been a recipient of a complimentary ticket for his hard graft, it made the incident all the more tragic. It is unfortunate that BlackBerry hadn't already withdrawn from the event considering it had by then announced it would retreat from the consumer market.