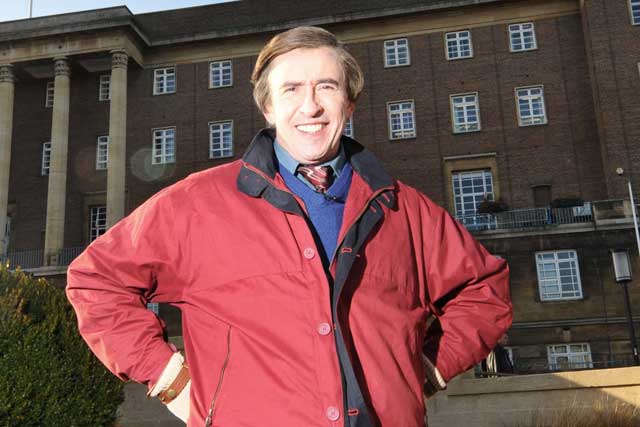 The return of Alan Partridge
Resurrecting much-loved comedy characters is a risky business and TV history is littered with examples of it going terribly wrong. We are delighted to report, however, that Sky Atlantic has avoided the pitfalls with the return of Alan Partridge in Welcome To The Places Of My Life. Mocking the lazy travelogue formats, Partridge takes us on a tour of Norwich and its surrounding countryside, meeting some of the people and places that shaped his character. All credit to Steve Coogan for eschewing the easy option of just dragging Partridge back into a studio and adding extra depth to one of the finest comedy creations of recent decades.
Doritos' Twitter Promotion
The recent Twitter4Brands event showed how brands such as Kraft and Absolute Radio have been using Twitter for campaigns. This week, we are enjoying the Promoted Trend on Twitter for Doritos. What we liked was the sheer brilliance and range of prizes you could win if you retweeted the brand's Tweet. Aside from the obligatory crisp boxes, lucky players could scoop a Samsung 32-inch Widescreen Full HD, a selection of "giant" garden games including darts, a barbecue and our favourite - a Mexican-themed party pack including a burro pinata. If those prizes don't make it hit home that Doritos goes hand in hand with entertainment (the brand's positioning), then nothing will.
The buzz around 4seven
4seven, the new spin-off from Channel 4 that orientates its programming around social media buzz, is to launch next month. Not only do we like the concept, which is fresh and innovative, but we think the accompanying marketing campaign does well to instil some excitement for its unveiling. The idents, which highlight the channel, will showcase the most popular Channel 4 shows from the previous seven days and are, of course, accompanied by activity on Twitter and Facebook.You can also download a 4seven app to find out scheduling and which programmes have been talked about the most. We like the fact that the broadcaster has worked to the launch date of 4/7/2012.
And one thing we don't ...
ITV's Euro 2012 coverage
ITV is set to receive a welcome ad revenue boost of £15 million from Euro 2012, so it's a shame that its coverage of the tournament hasn't matched this performance. The presenter Adrian Chiles seems as dour and lifeless as an Irish centre-forward, while ITV's "expert" panel of odds and sods from around Europe look like they've never seen the inside of a studio before. The broadcaster's coverage has at least not been upstaged by the BBC's effort, which is only marginally less lame but, unlike talkSPORT, whose radio programming has been excellent throughout, we predict ITV will finish bottom of its group on goal difference.